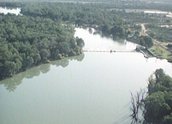 Peach's Explorers – The Secret of the Rivers: Captain Charles Sturt (1984)
Synopsis
Like so many Australian explorers of the early 19th century, Captain Charles Sturt believed there must be an inland waterway in the heart of Australia to explain why all the rivers seemed to run north from the coast. His river explorations finally discovered the mouth of the Murray River in an epic whaleboat journey of over 3,000 kilometres which solved the riddle of the rivers forever.
Curator's notes
Using recreations, diary entries and letters from the explorer himself, as well as on-camera presentations from Bill Peach, this 10-part series tells the story of the colonial exploration of Australia in visually interesting ways. Incidentally, the explorers were often English and not men born and bred in Australia.
This documentary uses actors to retrace the route of Captain Charles Sturt down the Murrumbidgee and then the mighty Murray River. They use a whaleboat identical to the one Sturt carried on all his explorations overland and then finally put to good use on this extraordinary river expedition.
Apart from the sheer physical hardship of the journey, there's a strong sense of Englishness about Sturt that comes through his writings, with his unshakeable belief in Empire, honour and God. Despite his great feat of following the Murray to the sea and returning to tell the tale that solved the riddle of the rivers of inland Australia, he was not granted a knighthood until after his death.