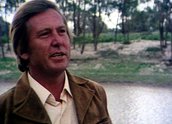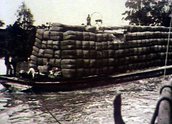 Peach's Australia – Darling River (1976)
Synopsis
The travel journalist Bill Peach continues his wander around the continent of Australia with a stop along the banks of the Darling River at Bourke in New South Wales. This was the centre of sheep grazing in Australia from the middle of the nineteenth century and the wool clip was collected by river steamers pulling enormous barges.
Curator's notes
Bill Peach was a household name in Australia at the time he gave up being the presenter of This Day Tonight, Australia's first nightly current affairs program, in order to return to his first love, travel journalism. Peach's Australia went into production immediately and became an instant success. Twenty-six programs were made in the series including some from Tasmania, others from across the Birdsville Track and a few from Arnhem Land at the northern most point of the continent.
Bill Peach went on to make a 10 part series, Peach's Explorers, about the key colonial explorers, and another 10 part series Peach's Gold about the influence of gold mining on Australian history.