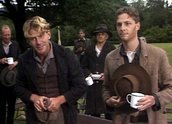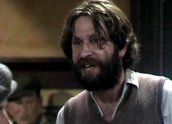 Palace of Dreams (1985)
Synopsis
Tom Raynor (Michael O'Neill) is a country boy with a dream to be a writer. He comes to Sydney to find work and is caught up in the turbulent and desperate times we now call the Great Depression. He is taken under the wing of a most unusual family, the Mendels, Russian Jews who own an inner-city pub called the Dundee Palace. The Mendels introduce Tom to Jewish culture and the world of European music and literature, while he is able to help them to understand more about the Australian character. The story is told through Tom's eyes.
Curator's notes
Palace of Dreams was devised and produced for the ABC drama department by Sandra Levy. It's loosely based on her family history. Her grandparents owned the well-known Burdekin hotel in Sydney where journalists rubbed shoulders with prostitutes and where country people stayed when they were in town. The Great Synagogue was just down the road. Sandra's mother grew up in the hotel and the children played in the back rooms of hotels and bars. The story is set in the 1930s, before the Second World War and the Holocaust, events which may have overwhelmed this gentle story of an immigrant Jewish family woven around various events in Australian history.
The pool of writers for the series included the youthful talents of Ian David, Denny Lawrence, John Misto, John Upton, Debra Oswald and Marc Rosenberg. The directors, who would also go on to have distinguished careers, included Denny Lawrence, Geoffrey Nottage, Graham Thorburn, David Goldie and Riccardo Pellizeri. The series very successfully melds black-and-white archival footage from some of the iconic moments of the era with colour footage of life in the hotel. The technique involved gradually bleeding the colour from the drama footage just a few seconds before the archival black-and-white. Then the colour gradually bleeds back in when the drama footage continues. A considerable technical achievement at that time.
The series was made on tape at the Gore Hill studios of ABC television with sets made in the workshops on-site. The drama programs made by the ABC during the 70s and 80s were well endowed with in-house resources like the studios and sets but strapped for anything that had to be bought with hard cash. While the Tasmanian Symphony Orchestra was an ABC resource enlisted to play the music for the series, Sandra Levy recalls there would have to be a script run at the end of each day when the in-house team would deliver scripts to writers living in or around their area on the way home because there was never enough cash to pay for couriers – and no email!