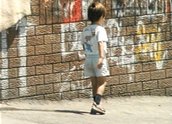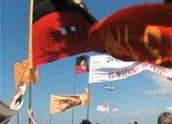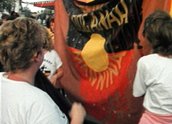 One People Sing Freedom (1988)
Synopsis
A documentary about the Bicentenary in 1988 when, while the majority of Australia celebrated the anniversary of the landing of the First Fleet in 1788, Indigenous Australians were unified in protest. This documentary follows the preparations of Indigenous peoples from all parts of the country coming together to voice a joined protest against the Bicentenary.
Curator's notes
One People Sing Freedom is important historically as it documents the protest march organised by Indigenous peoples to protest the 1988 Bicentenary. The protest march in 1988 is the largest gathering of Indigenous people since 1788, and the film places importance on counteracting the Australian nation's pride in invading Indigenous peoples' lands in order to forge a future where a dialogue between the cultures takes place.
We see Indigenous peoples in Northern Territory, Tasmania and Redfern making final preparations for the 1988 Bicentenary protest march, and the level of organization that eventually led to a combined voice raised in opposition to the Australian Bicentenary celebrations. The only bleak aspect of the film is the script (perhaps necessarily so) – the voice-over narration provided by Ernie Dingo provides a rather bleak background to the march and the reason it is necessary. The tone of the script though, is counteracted by the colour and movement of the march, of peoples from the desert and the coast dancing together towards a future.