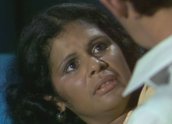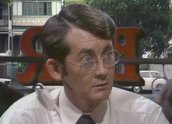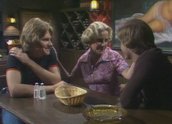 Number 96 – Episodes 1003 and 1004 (1976)
Synopsis
These episodes are from the show's later period when it was trying to woo back viewers with another (politically incorrect) creepy visitor storyline: after the Knicker Snipper and the Pantyhose Strangler, along came the Hooded Rapist. These episodes also boast new technology (the use of a green screen effect to make the outside of sets look more realistic) and, for the first time ever, a sudden focus on teenage characters moving into the building.
Curator's notes
The popularity of Number 96 had well and truly peaked by this stage, but it was still enjoying a wave of publicity around this episode thanks to the top-rating TV special Number 96: And They Said It Wouldn't Last which had celebrated the milestone of 1000 episodes.
Technically, the show was quite different from those first black-and-white years (from 1972) – now filmed in (quite garish) colour and also airing two one-hour episodes per week instead of five half-hour episodes Monday to Friday. Producers were talking up this new format by insisting that longer episodes allowed for more location filming. They were indeed filming outdoors a lot more but this was a response to the much bigger-budget American shows like Starsky and Hutch (1975–79) which were now screening against Number 96 in the 8.30 pm timeslot.
This is also a time of experimentation in how to make the studio-based sets look more realistic. This episode features a moving streetscape outside of Norma's Bar with actors moving in front of it (see clip two).
Episodes 1003 and 1004 of Number 96 were first broadcast on the 0 Network (later to become Channel Ten) on 28 June 1976. A late-night repeat aired in Sydney in 1980.