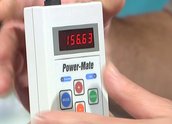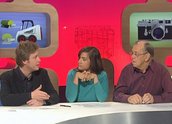 The New Inventors – Series 2 Episode 8 (2005)
Synopsis
This episode of The New Inventors includes: a demonstration of a lock clip that replaces the standard safety clips used in rope climbing; a 'Power-Mate' that lets you know how much power any particular appliance is using and its cost; and a plumber's device to assist people with disabilities in the shower, which also saves water.
Curator's notes
The program moves along at a cracking pace, broken occasionally with pre-packaged interstitials. These sometimes include moments from the original The Inventors series (1970–1982), presented by Stuart Wagstaff, or present a little-known fact about a particular technology that changed the world.
There's strong encouragement throughout the program for audience participation, either by way of the people's choice awards or by encouraging inventors to apply to have their design featured on the show. With only 27 minutes (a television half-hour on the ABC), the show has to introduce and explain three inventions and allow the judges to question each inventor and explain their choice of a winner, while presenter James O'Loghlin asserts his personality and links it all. It's a tall order, but it works because the program never loses sight of its most precious talent, the inventors and their amazing creations.