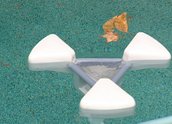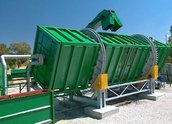 The New Inventors – Series 1 Episode 8 (2004)
Synopsis
The three featured inventions on this week's program are: a pool cleaner with a difference, invented by two brothers; a masterly way of turning landfill into compost; and an inflatable resuscitation mask that prevents the spread of communicable diseases.
Curator's notes
The inventions chosen are really quite remarkable, and the three panellists ask excellent questions, each within their different area of expertise. These often include an engineer-inventor, an architect-designer and a creative director from an ad agency, so the questions flung at each inventor can cover materials used, possible design improvements and whether the invention can easily be marketed.
Each inventor has a promotional video made to show off his or her work. Sometimes these are unintentionally funny, in the tradition of homemade ads, but it's also a slick and efficient way to explain the invention in less than five minutes.
James O'Loghlin works hard to keep the show moving along, with gags and one-liners that provide a contrast to the seriousness of the backyard boffins explaining their life's work. The program also offers a range of interstitials, providing a change of pace. These include famous inventions from the past, a moment from the original series – The Inventors (1970-1982), or maybe some funny or fascinating piece of design trivia.