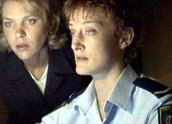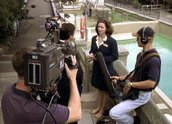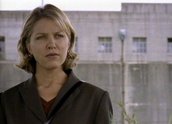 Murder Call – Black Friday (1997)
Synopsis
A school trip to the zoo goes awry when a child finds a dead man in a gorilla suit. Detectives Tessa Vance (Lucy Bell) and Steve Hayden (Peter Mochrie) are called in to investigate – with the help of a team including forensics expert Lance Fisk (Geoff Morrell), pathologist Dr Imogen 'Tootsie' Soames (Glenda Linscott) and their stalwart boss, Inspector Malcolm Thorne (Gary Day). Steve follows procedure and Tessa follows hunches – but together they unearth a trail of clues that will lead them to the killer, meeting an oddball assortment of suspects along the way.
Curator's notes
Murder Call came from the stable of Hal McElroy and Southern Star at a time when they were also producing two other popular crime dramas – Water Rats (1996-2001) and Blue Heelers (1994-2006). In general, the late 1990s was a boom time for local crime drama on Australian screens.
Murder Call's take on the genre combines a slick look and feel with offbeat story-lines that hark back to the clue-puzzle tradition of the fictional sleuth. According to McElroy this was aimed at capturing a broader audience – clue-based murder mysteries were seen as traditionally appealing to women, while the 'slick' look attracted male viewers. The show came about when McElroy teamed up with crime author Jennifer Rowe, also well known for her children's fiction under the pseudonym Emily Rodda, to create a 'murder mystery with cops'. Rowe subsequently penned some novels featuring the Tessa Vance character.
Rather than follow multiple story strands, each episode of Murder Call is self-contained and focuses on a single murder that is solved by the end. There are no serial story-lines such as romances, so episodes can be viewed in any order. Nonetheless the team are an ensemble of distinctive, contrasting personalities in the cop show tradition. Recurring character dynamics include the friendly rivalry of Lance and Tootsie and tension between Tessa and Steve over working methods.
The show was shot on film. With around five days to shoot each episode, the production team developed some new methods for shooting quickly in the style they wanted. These included a studio set-up where mobile pedestal stands, more commonly used for TV video cameras, were adapted for film cameras.
Black Friday is episode seven of series one of Murder Call. It was first broadcast on the Nine Network on 22 September 1997.