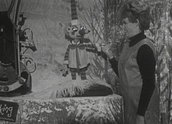 Mr Squiggle and Friends – Episode 148 (c.1960)
Synopsis
This early black-and-white episode opens with Miss Pat (Patricia Lovell) bemoaning Bill Steamshovel's 'awful wet washing' on the line. It transpires that Bill did not have time to 'wring out his tracks' so they take turns telling riddles while they wait for them to dry. Then, while Miss Pat goes off to see Mr Squiggle, Bill decides to 'smoke' the washing dry.
Mr Squiggle (voiced by Norman Hetherington) finally arrives, but not via Rocket this time as Rocket is 'not speaking'. With the help of an impatient Blackboard and Miss Pat, Mr Squiggle uses his pencil nose to create a series of imaginative pictures from viewer's squiggles – while Miss Pat helps to guess what they might be. A whistle summons Mr Squiggle back to the moon and Miss Pat discovers that Bill's tracks have shrunk in the wash!
Curator's notes
Mr Squiggle, 'the man from the moon' created by Norman and Margaret Hetherington in 1959 (a decade before the first moon landing), is the star of one of the longest-running children's television programs in the world. Mr. Squiggle lives on the moon at 93 Crater Crescent. He travels to Earth in his trusty pet Rocket and uses his pencil nose to transform the squiggles of viewers into creative cartoon drawings.
At various times in his long history, Mr Squiggle has been ably assisted by Bill Steamshovel, Doormat, the grumpy Blackboard, Gus the Snail and a human 'friend' (six in total over the years). Initially given a six-week run in 1959, Mr Squiggle continued to be produced at the ABC until 1999 and was on air in various formats up until 2003!
Creator Norman Hetherington, and Margaret Hetherington, scriptwriter for the series, describe a very different era in television when Mr Squiggle and Friends was first produced. In 1959 when the National Director of Children's Programs for the ABC, John Appleton (ABC 1950–70), commissioned the series, Appleton asked Norman (who appeared with puppets Nicky and Noodle at the launch of ABC television broadcasting in 1956) to work up a show with a one-week lead to the first live-to-air broadcast.
When I spoke to Norman (in July 2009), he remembered, 'There was no audition, no rehearsal, just a look at the script outline (as the program was mostly ad lib)'. Margaret added, 'We were very fortunate, TV was still experimental and there was confidence in the people you worked with'. Norman also points out that, fortunately, production of the show was cheap.
In an interview in 1983, Appleton commented that at the time 'the commercial television channels allocated a lot of money for children's television. Their budget for a one-hour show like The Mickey Mouse Club (1955–96) – of which there was something like 40 minutes live action – was twenty-seven thousand pounds! That would be our budget for six months.'
Norman notes that in terms of the series's development:
I think that characters really need a gimmick I suppose, and Squiggle's was drawing. I was a cartoonist previously at The Bulletin and it was an idea of combining the cartooning and the puppet, which I was interested in as a hobby. I think the character was developed by Margaret's scriptwriting, being conscious of the fact that a puppet needs character development otherwise it just remains a puppet. So Squiggle developed a gentle character, needing someone to solve his problems and to hold his hand and help him generally. He was also a contrast to the rather brash characters they had on television at that time which was the very early days of television. So he developed, consciously or unconsciously – mainly unconsciously. Over time … he became part of the family, a member of the family. Yes, I was probably Squiggle and Squiggle was probably me.
Along with the Play School (1966–current) characters, Humphrey B Bear and more recently the Bananas in Pyjamas, Mr Squiggle is one of the most recognised children's television characters. In July 2009 Mr Squiggle turned 50 and, although no longer on air, continues to appear at exhibitions (the Powerhouse Museum and Mosman Art Gallery) and at science-fiction conventions. Norman was presented with an Order of Australia in 1990. He died in 2010, aged 89.
Mr Squiggle and Friends first went to air on the ABC on 1 July 1959. The program continued on air in various incarnations until 30 June 2001 and was then shown on the ABC's digital channel Fly until the channel was axed due to budget cuts in 2003.