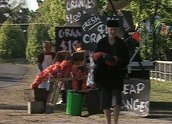 Mother and Son – The Funeral (1984)
Synopsis
Maggie (Ruth Cracknell) and Arthur (Garry McDonald) set out with Uncle Tom (Peter Gwynne) to the funeral of another of Maggie's brothers, Andrew. Maggie holds up the whole procession of cars while she buys a bag of oranges from a roadside stall and then the fun begins.
Curator's notes
The comic possibilities of a dozen oranges at a funeral are endless and Maggie is capable of creating chaos as they fall from the bag into the grave. Geoffrey Atherden, the writer of Mother and Son, turns simple ideas into side-splitting comedy as the Beare family attend Uncle Andrew's funeral service and Maggie manages to turn the whole event into high farce.
The black comedy continues when another of Maggie's brothers dies in her living room after the funeral. That the whole program is side-splittingly funny is a tribute to the deft writing of Geoffrey Atherden and the glorious anarchy of Ruth Cracknell as Maggie. It is in terribly bad taste but within the sitcom genre it's all perfectly acceptable.