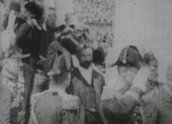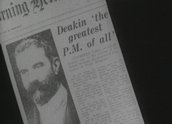 Mister Prime Minister – Alfred Deakin (1966)
Synopsis
Alfred Deakin served three terms as Prime Minister of Australia between 1903 and 1910. This biography examines Deakin's achievements in the first decade of the Australian Commonwealth.
Curator's notes
This instalment in the ABC TV documentary series Mister Prime Minister provides a fascinating insight into the first decade of the Australian Commonwealth via the role played by its second prime minister, Alfred Deakin. Tracing Deakin's early life in Melbourne as a reluctant lawyer and his meteoric rise in politics – elected to the Victorian parliament at 23, cabinet minister at 26 – the program recognises Deakin as the driving force behind Australian federation.
From 1890 to 1900 Deakin stepped down from his cabinet positions in Victoria's government to pursue his goal of drafting a federal constitution. He was Victoria's representative at the Australasian Federal Conferences of 1890 and 1897–98, during which time he drafted much of what became the Australian Constitution. It is said that his emotional speeches on the need for unity among the states (then known as the Australasian colonies) were largely responsible for swaying opinion in favour of federation.
Deakin, who served as attorney-general in the government of Edmund Barton and succeeded Barton on his retirement in 1903, was a rare example of an intellectual Australian prime minister. Extremely well read and a deep thinker, he is widely regarded as one of the greatest orators Australia has ever produced, and was well liked even by his political opponents. Deakin's formidable speaking skill is recalled by CS Daly, a former public servant and one of the few Australians alive in 1966 who had watched Deakin in parliament (see clip one). Professor Walter Murdoch, who knew Deakin well, recalls, 'as long as I knew him, he was always jolly … they used to call him Alfred the affable.'
In the first ten years of the Australian Commonwealth, seven governments were formed, with Deakin serving as prime minister three times. His power of persuasion and likability are cited as the keys to his success in having legislation passed by a parliament in which allegiances shifted freely and voting on party lines was not enforced as it largely is today.
While there are many great achievements in Deakin's record, there is one piece of legislation which would be the subject of much greater focus in any contemporary documentary. The Immigration Restriction Act of 1901, which formed the basis of the White Australia Policy and restricted non-white immigration until its effective abolition in 1975, is mentioned but draws little critical analysis. A parliamentary speech by Deakin on the subject of Japanese immigration (read by actor Ron Haddrick) is compelling. Deakin argues the Japanese should be excluded not because of any negative associations but 'because of their high ability … it is their inexhaustible energy … their endurance that make them such competitors'.
With the exception of a few seconds of Deakin at the inauguration of the Commonwealth (see clip one), no film of Deakin exists. Relying on archival government documents, newspapers and photographs, as well as valuable insights into Deakin's family life by his daughter, Lady Stella Rivett, the filmmakers construct a vivid portrait of a remarkable Australian political figure. Australia's longest-serving prime minister, Sir Robert Menzies (1949–66), puts a strong case forward (see clip two) when he nominates 'the great builder' Alfred Deakin as Australia's greatest prime minister.