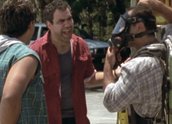 Message Stick – Wayne's World (2005)
Synopsis
An episode that introduces us to award-winning filmmaker and actor Wayne Blair.
Curator's notes
Wayne Blair is an Indigenous actor and filmmaker. His insights into his craft, and the experience garnered throughout his career, are valuable to any would-be actor.
Presented by Rachel Maza, Wayne's World is episode 20 in series 6 of Message Stick.