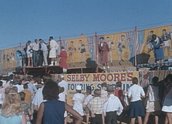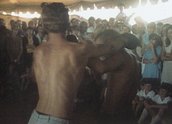 Message Stick – Tent Boxers (2001)
Synopsis
Tent Boxers tells the story of the Aboriginal men who travelled across Australia with tent-boxing troupes in the mid-twentieth century. The film documents this travelling-show phenomenon through a combination of interviews with former tent boxers, historical footage and still images.
Curator's notes
Written, directed and produced by Michael Riley, Tent Boxers documents an important dimension in Australian social history. It tells the story of the Aboriginal men who travelled with tent-boxing troupes around Australia.
The film uses historical footage to great effect, transporting the audience back to the sights and sounds of the era. Imagery of a small-town show brings it to life, with sideshow alley, the rides, the oddities and the tent boxers. We see the theatrics of tent boxing: the spruiker, microphone in hand, luring an audience. He challenges locals to bout with the troupe. The boxers, in a line behind the spruiker, stand ready to fight. The crowds gather, enter the tent, and the show begins.
Riley's interviews with former tent boxers provide a balanced, first-hand account of the tent-boxing experience in Australia from an Aboriginal perspective. With limited opportunity to gain employment, tent boxing provided itinerant work for Aboriginal men. Not all troupe owners treated them with respect, and some boxers were not paid their wages.
The boxers discuss the time spent on the road, the training regime and the fights. They share their memories of the living conditions and of the control the troupe owners exerted over their lives, describing the fake fights and real fights, wins and losses and the painful and humorous aspects of the business.
The text at the end of the film brings home the dangers involved in tent boxing and explains the reason behind its inevitable demise:
In 1971 promoters were required to have boxers and challengers medically examined before each fight and boxers were limited to one fight a week. This forced the travelling troupes out of business.
Michael Riley led the field in telling Aboriginal stories from an Aboriginal perspective with his films including Blackout – Malangi: A Day in the Life of a Bark Painter (1991), Message Stick – Blacktracker (1996) and Tent Boxers (2001). His legacy resides in his contribution to Indigenous filmmaking and his positive influence on other Indigenous filmmakers. The signature of his gentle style is present in all his films. Ultimately, he offers his audiences a viewpoint only gained by quiet observance.
Produced as part of the ABC National Indigenous Documentary Fund – Series 2, Tent Boxers later screened on the ABC Message Stick program. Through the fund the ABC supported the development of Indigenous filmmaking in Australia, while programs like Message Stick provide national exposure for Indigenous productions.