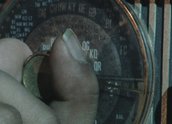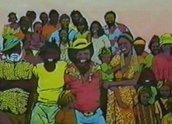 Message Stick – Macumba: Outside Looking In (2003)
Synopsis
Macumba: Outside Looking In pays homage to the highly respected Aboriginal media legend John Macumba and to his legacy in Aboriginal radio broadcasting. It documents events in Macumba's life that led to his career in Aboriginal media. It focuses on the contribution he made to the maintenance of Aboriginal cultural heritage, through the establishment of the Central Australian Aboriginal Media Association (CAAMA), in the early 1980s. Highlighted is Macumba's connection to his country and his people. The film shows Macumba, a resident of Sydney, travelling back to his desert homelands to meet with members of his family.
Curator's notes
Macumba is the story of John Macumba – a pioneer in Aboriginal radio broadcasting in the late 1970s and early 1980s – and his contribution to the development of Aboriginal media in central Australia. Macumba explains how he imagined a world where Aboriginal people represented themselves in their own languages using broadcast media. He talks about how he came up with the idea of setting up an Aboriginal radio station in Alice Springs and how, along with Freda Glynn and Phillip Batty, he established the Central Australian Aboriginal Media Association (CAAMA) in the early 1980s.
CAAMA began broadcasting on 8-KIN FM radio in Alice Springs and later expanded to include a recording studio and television station. In doing so, CAAMA became the world's first Indigenous-owned television station. Inspired by CAAMA, Indigenous people from across Australia utilised audiovisual technology for cultural maintenance, self-expression and self-empowerment.
The film employs historical footage to support the story, including images of atomic bomb blasts at Maralinga in 1957. There are re-enactments of Macumba's early life such as his bush baptism. Most importantly, Macumba features historically significant footage, photographs, posters and other imagery from the early days of CAAMA.
In 1986, Macumba establish his own production company, Macumba Media Enterprises Pty Ltd, and a few years later set up Umeewarra Media in Port Augusta near his traditional homelands in South Australia. In 1995, Macumba received a Lifetime Achievement Award from the National Indigenous Media Association of Australia. Although suffering from cerebral palsy, Macumba rose against the odds to break through the barriers that excluded Indigenous peoples from accessing broadcast media in Australia.
Macumba was broadcast on the ABC as part of Message Stick on 11 June 2004.