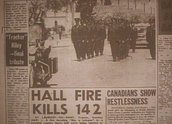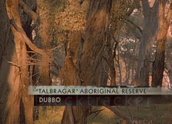 Message Stick – Blacktracker (1996)
Synopsis
Bernadette Yhi Riley narrates the story of her great-grandfather, Aboriginal tracker Alexander Riley, who served with the NSW Police from 1911 to 1950. We see Yhi Riley searching through archival records and talking with older family members and a former work colleague of her great-grandfather. There are re-enactments of Riley learning his tracking skills from the elders as a boy and then utilising his skills in the police force.
Curator's notes
Michael Riley's Blacktracker offers its audience a glimpse of Australian history from an Aboriginal perspective. It celebrates the life and career of police sergeant and 'blacktracker' Alexander Riley, an Aboriginal man held in high esteem by his family, the broader community and his police colleagues. It pays tribute to the knowledge, compassion and wisdom he generously shared with the people around him.
The Riley family talk about Alexander with great love and respect and tell of the hundreds of people who attended his state funeral. We see newspaper clippings of the event and photographs of a long police motorcade. This dignified film touches the heart and reminds us of the great contribution Aboriginal people have made to Australian society.
The film also marks a change in documentary filmmaking in Australia, produced at a time when Aboriginal people were beginning to gain access to the industry. Before the 1990s, predominantly non-Aboriginal filmmakers produced documentary films about Aboriginal people and their cultural heritage, from their own perspective. Very few filmmakers facilitated the access of Aboriginal people to the industry or granted them self-determination over their cultural presentation.
As one of the earliest Aboriginal filmmakers, Michael Riley paved the way for following generations of Indigenous filmmakers to tell their stories in their own way. His films included Blackout – Malangi: A Day in the Life of a Bark Painter (1991), Message Stick – Tent Boxers (2001) and Blacktracker. His legacy resides in his contribution to Indigenous filmmaking and his positive influence on other Indigenous filmmakers. The signature of his gentle style is present in all his films. Ultimately, he offers his audiences a viewpoint only gained by quiet observance.
Blacktracker screened on the ABC as part of Message Stick on 7 January 2001.