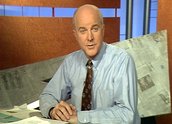 Media Watch – Series 9 Episode 1 (1997)
Synopsis
Stuart Littlemore QC(Queen's Counsel), former journalist and now barrister, presents the first program for the year in the 1997 series of Media Watch. There's a review of what's happening in print media across the country and a stunning exposé of a recent story on the Seven Network's nightly current affairs program, Today Tonight. Littlemore questions the professional honesty of reporter David 'Sluggo' Richardson and producer Chris Adams over a report about disgraced Australian businessman Christopher Skase, living in exile on Majorca, an island off the coast of Spain.
Curator's notes
This episode is vintage Media Watch. The show's original presenter, Stuart Littlemore, thoroughly enjoys demolishing a couple of journalists from the Seven Network. Littlemore would set the standard by which all subsequent presenters of the program have been measured. He belittles and denounces the tricks of the trade practised by journalists and subeditors as only a former journalist can. The program has a simple format, featuring clips from television programs and extracted newspaper headlines and quotes. Mr Littlemore uses these to ruthlessly expose journalistic dishonesty through his well-written and elegantly presented links.
In his book, The Media and Me (1996), about his life and work as a journalist and defamation barrister, Stuart Littlemore wrote, 'I want to show people the problems – not tell them. The program will be contentious. I hope. And idiosyncratic'. During the time that he and executive producer David Salter worked on Media Watch, it was all of those things and more. In a short time, it became one of the most watched programs on television and the scourge of dishonest and sloppy journalism over the ensuing years.
This episode of Media Watch first screened on the ABC on 10 February 1997.