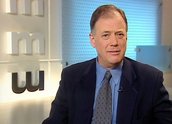 Media Watch – Series 11 Episode 18 (1999)
Synopsis
Richard Ackland, journalist and lawyer, became the presenter of Media Watch in 1998, following the departure of Stuart Littlemore after eight years with the program. This episode covers the issue of 'cash for comment' – as it became known. It exposes Sydney Radio 2UE broadcaster John Laws for delivering a positive on-air editorial in return for money, without making it clear to the radio audience that it was an advertorial.
Curator's notes
A weekly magazine-style program that exposes the tricks journalists use, Media Watch is one of the ABC's top-rating programs. The audience takes a grim satisfaction in seeing journalists scrutinised by one of their peers, in this case Richard Ackland. Someone once said that every journalist loves the show until they too are featured.
The weekly program runs only for 15 minutes, but is a must-see for people interested in how the media works. Each show includes three or four different items highlighting journalistic tricks of the trade and ethical transgressions. Examples of the types of behaviour exposed include: journalists who obtained a story by lying to interviewees, chequebook journalism and plagiarism. In this case, Ackland's subject is a broadcaster offering editorial comments that, unknown to the listeners, are in fact advertisements paid for by the organisation.
This episode of Media Watch first screened on the ABC on 12 July 1999.