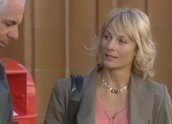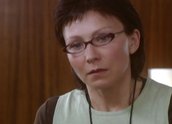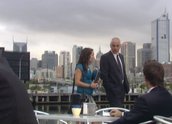 MDA – Second Chance (2005)
Synopsis
Led by dour Bill 'Happy' Henderson (Shane Bourne), the team of doctors and lawyers at MDA – Medical Defence Australia – provide insurance and legal representation to doctors. In Second Chance, Happy's team becomes concerned when he arrives at work and stops taking his wife's calls. Is their boss having a midlife crisis?
Leading immunologist Professor Robyn Masterson (Sigrid Thornton) approaches MDA requesting insurance for human trials of a new wonder drug. It's a risky project and Happy intends to turn down the request – until he meets the charismatic and determined Professor Masterson in person. She introduces Happy to Belinda McRoberts (Chloe Armstrong), a 17-year-old teenager with a rare immune disorder, whose only hope is the new drug. Are Masterson's lab results too good to be true? Is Happy's attraction to her preventing him seeing the truth?
Meanwhile, one of Masterson's researchers, Dr Julia Delvecchio (Anita Hegh), is at breaking point. She needs MDA's help with a case of her own.
Curator's notes
As a setting for a TV drama, an insurance office seems at first glance about as exciting as a drycleaners (see Good Guys Bad Guys, 1997–98). In fact, MDA gives two TV staples a twist by combining medical and legal drama. Doctors and lawyers working together makes for just the kind of environment beloved of TV networks, where high drama stories of conflict, life and death walk in the door on a weekly basis. Even if the doctors and lawyers do work for an insurance agency.
Starting life as a weekly drama with 22 episodes per season, MDA made some major stylistic changes in this, its third and final season. They included moving the central location, the MDA office, to a larger space that allowed more dynamic camerawork and layered environment shots. In addition, the run was reduced to 12 episodes, consisting of three self-contained mini-series of four episodes each. Alongside the regular team, each mini-series features a different high-powered guest cast, including actors such as Vince Colosimo and Lisa McCune. Second Chance is the first of the trio, guest-starring Sigrid Thornton, Aaron Blabey and Anita Hegh.
The mini-series length allows Second Chance's writing team to develop a complex plot. At its heart, there is a dramatic ticking clock: will time run out for mortally ill teenager Belinda? Numerous subplots thread back to this basic through-line and keep viewers guessing until the end. Along the way, there are shades of Greek tragedy, as multiple characters set in motion a snowballing sequence of potentially catastrophic events that could see their own actions come back to haunt them. They are driven by ambition, fear and the common tragic quality of hubris, or pride. The ultimate question is whether a real tragedy will come to pass for the story's most innocent character, Belinda.
A recurring theme in MDA is the exploration of moral grey areas: it presents medical-legal conflicts without always picking a clear side, and characters we can interpret in different ways. Thornton's Professor Masterson is a prime example. Whether she is motivated by her patient's wellbeing, her career, or both, is ambiguous.
MDA's first two seasons screened in 2002–03 but after a period of uncertainty as to whether the series would continue, season three did not appear until June 2005. The intervening years saw a sharp decline in Australian drama on the ABC. In the 2003–04 financial year, the public broadcaster controversially screened only three hours of first-release Australian drama, down from 83 hours in 2001–02. It was a rough time for Australian drama on the free-to-air channels in general. A crop of new shows introduced in 2001–02 struggled to stay on air, often axed after one or two seasons. At this time, three seasons qualified as a long run.
Over its three seasons, MDA won AFI Awards for Best Drama Series (2003) and acting prizes for Shane Bourne, Angie Milliken and Anita Hegh, as well as an AWGIE for screenwriter Kylie Needham for the episode Precious Little. Production company Screentime and producer Greg Haddrick's other credits include mini-series The Incredible Journey of Mary Bryant (2005) and the popular and controversial Underbelly – Series 1 (2008).
The third series of MDA screened on ABC television on Thursday nights beginning with the first episode of Second Chance on 30 June 2005.