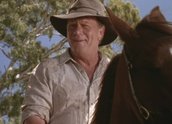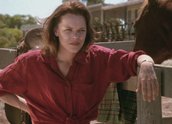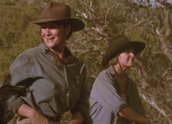 McLeod's Daughters (1996)
Synopsis
The daughters of Jack McLeod (Jack Thompson), cattle-station owner, have not seen each other since childhood when his second wife left him for the city, taking their child Tess Silverman (Kym Wilson) with her. Tess's half-sister Claire McLeod (Tammy MacIntosh) stayed on the station and grew up in the shadow of her loving but overbearing father. Now the girls are adults.
When Tess arrives unexpectedly, Claire is not happy. On the cattle station and in the nearby town men call the shots and women play supporting roles. Strong-willed, independent Tess shakes things up and immediately earns a respect from their father that Claire has been trying to win her whole life. A tragic accident forces the sisters to put aside their differences. They find themselves in charge of Drover's Run, deep in debt and deserted by their staff of stockmen, who don't want to work for female bosses. Will the sisters lose Drover's Run or find a way to carry on their father's legacy?
Curator's notes
With its horses, sweeping landscapes and traditional men and women working the land, McLeod's Daughters shares an Australian iconography with productions like The Man from Snowy River (1982). It draws on the archetypal gender roles of the rural melodrama but also challenges them. The premise of strong women in charge of a cattle station defines both the telemovie and the successful television series it spawned five years later (see McLeod's Daughters – Welcome Home, 2001), with a different cast.
With golden-hued landscapes, a dramatic orchestral score and larger-than-life characters, the telemovie is more firmly ensconsed than the series in the melodrama genre. It has a romantic structure of sorts, the renewal of the connection between the estranged sisters taking the place of an actual romance. It is also built around the idea of self-discovery; downtrodden country girl Claire finds her independence and independent city girl Tess discovers that the land is in her blood. This contrast between the McLeod sisters was re-worked in the later series, where Claire is a tough, independent country woman in contrast to Tess's airy city girl.
McLeod's Daughters lingers over imagery of the land, horses and farming work; these vistas are fundamental to the identity it later developed as a series. Its vision of the rural landscape is romantic rather than harsh. Creator Posie Graeme-Evans stated in publicity materials that the work of landscape painter Sir Hans Heysen (1877–1968) was among her inspirations. The filming location for Drover's Run was Kingsford, a farmhouse and heritage property in the Light Regional District in South Australia. The Nine Network purchased the property in 1999 to use as the setting for the McLeod's Daughters series.
McLeod's Daughters screened on the Nine Network on 11 May 1996 and became the the network's highest-rating telemovie to that time.