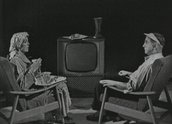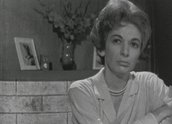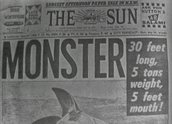 The Mavis Bramston Show – Series 2 Episode 1 (1965)
Synopsis
This is the first episode for 1965 of The Mavis Bramston Show, a weekly sketch and variety series featuring topical satire, sketches and songs.
Curator's notes
This is a bumper episode of The Mavis Bramston Show. It opens and closes with a wonderful self-examination through imagined conversations among its audience (see clip one). Although the show's topical satire is no longer current, it is still sharp. As well as news and politics, general sketches, variety and vaudeville, there are some send-ups of TV shows of the time. The most fun is a send-up of game show It Could Be You (1960–69), with Gordon Chater providing a smug, simpering impression of the show's host Tommy Hanlon.
Mavis Bramston, the show's usually-absent, C-grade British 'star', makes an appearance, 'on tour' for sponsor Ampol. Maggie Dence, as Mavis Bramston, made many real promotional public appearances for the sponsor, who did not seem to mind that she was a tongue-in-cheek character and an object of ridicule on the show.
This episode's attitude towards its sponsor is a joy to behold. Ads read as comic sketches and appear to almost mock, rather than promote, the company. A particularly memorable one sees two men discussing Ampol petrol while cleaning a cistern, the camera slowly zooming in on the toilet bowl. To add to the confusion, there are several phony ads included in the episode, including one for a new-model guillotine. Mavis had a fellow devotee to this practise of 'rubbishing the sponsor' in Graham Kennedy, on his variety show In Melbourne Tonight (1957–70).
The Mavis Bramston now seems curiously dated yet still fresh. While the mock ads, media send-ups and news reports wouldn't be out of place on a contemporary program, many segments hark back to the variety program format that was popular when Mavis appeared. The theatricality, performance style and pacing are different to contemporary productions, and of course the studio production values reflect the era.
Also striking today is the inclusion, in the regular 'Mavis Bramston Viewpoint' segment, of serious sketches, something you just don't see on television now. In this episode, Carol Raye performs a poem as a war widow waiting for her son to return from the front (see clip two). Mavis Bramston uses both comic and serious sketch material to critique the events of the day. In this episode, conscription, the Vietnam War, apartheid and Australia and BHP's involvement in Papua New Guinea are among the targets. Mavis Bramston was particularly strong in its support of peace, a recurring theme on the show.
The Mavis Bramston Show screened on ATN Seven from 1964 to 1968. During this time, it featured in Saturday and Wednesday night timeslots, usually at 8.30 or 9 pm.