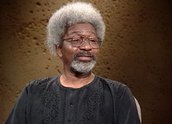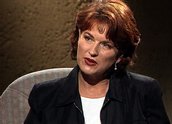 Masterpiece Special – Wole Soyinka (1997)
Synopsis
The Nobel Laureate for literature in 1986, Wole Soyinka is in Australia for the 1997 Melbourne Writers' Festival. He's talking to Andrea Stretton about his early life in his native Nigeria and the terrible fate of his friend and fellow Nigerian writer, Ken Saro Wiwa, who was executed by the military regime there just 18 months previously, in 1995.
Curator's notes
Wole Soyinka now lives and works in the United States, knowing that the terrible fate of Ken Saro Wiwa awaits him should he return to Nigeria. Soyinka's most recent play at the time of the interview is a lively satire set in Nigeria called The Beatification of Area Boy (1995), brought to Australia for New Images and performed as part of the 1997 Sydney Festival. Soyinka's love of theatre comes directly out of the African people's love of masquerades, parades, mythology and, above all, music.
The interviewer is the arts journalist and television presenter Andrea Stretton who died in 2007. The Masterpiece Specials were an extension of the Masterpiece series she presented for SBS. Andrea Stretton began working for SBS as a journalist and producer in 1986. She co-presented The Book Show with Dinny O'Hearn until his death in 1993 then presented alone for many years. In 1998, she moved to the ABC as the presenter of Sunday Afternoon, staying until 2001. She was the artistic director of the 1998 and 1999 Olympic Arts festivals and was chosen by Prime Minister Keating to work on the Creative Nation cultural policy statement. Audiences loved her natural on-camera presence and interviewing style, at once conversational, knowledgeable and challenging. One of the things she was most proud of was her award from the French Government of the award of Arts and Letters for her contribution to arts and culture and for fostering French-Australian relations.