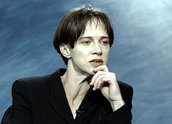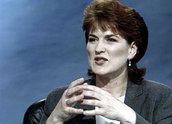 Masterpiece Special – Judy Davis (1996)
Synopsis
A wide-ranging interview with Australian actress Judy Davis, who has starred in over 20 movies since she came into our lives with My Brilliant Career (1979), her debut film. The interview is to promote her then latest film, Children of the Revolution (1996), to which she's been drawn by the terrific script and a great female role. It's the first time in eight years that she's made a film in Australia.
Curator's notes
Judy Davis is one of the great actors of her generation. She's worked with some of the best directors, both in Australia and internationally, appearing in A Passage To India (1984) for David Lean, My Brilliant Career (1979) and High Tide (1987) for Gillian Armstrong, and Husbands and Wives (1992) for Woody Allen. Her recent work includes the films Marie Antoinette (2006) and The Man Who Sued God (2001) and she displays her fine comic talents in the US television show, The Starter Wife (2008).
The interviewer is the arts journalist and television presenter Andrea Stretton who died in 2007. The Masterpiece Specials were an extension of the Masterpiece series she presented for SBS. Andrea Stretton began working for SBS as a journalist and producer in 1986. She co-presented The Book Show with Dinny O'Hearn until his death in 1993 then presented alone for many years. In 1998, she moved to the ABC as the presenter of Sunday Afternoon, staying until 2001. She was the artistic director of the 1998 and 1999 Olympic Arts festivals and was chosen by Prime Minister Keating to work on the Creative Nation cultural policy statement. Audiences loved her natural on-camera presence and interviewing style, at once conversational, knowledgeable and challenging. One of the things she was most proud of was her award from the French Government of the award of Arts and Letters for her contribution to arts and culture and for fostering French-Australian relations.