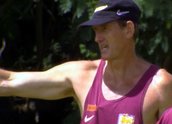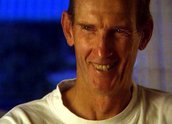 Australian Story – A Man for All Seasons (1999)
Synopsis
Wayne Bennett was born on the wrong side of the tracks. His father was a violent and hard drinking fettler, who left his wife and kids when the family was still very young. Wayne left school and began work at the local bacon factory when he was 13, while his mum cleaned hotels to keep the family together.
Wayne Bennett fought through to become accepted into the police academy, unthinkable from his background at that time. He then left the force to become a rugby league coach for the Brisbane Broncos in 1988.
He's been Coach of the Year and Father of the Year and says he'd give it all up tomorrow for his family. It's a remarkable story about a family that has had more than its share of tragedy, with two children with disabilities, but Wayne and his much loved wife just take things a day at a time.
Curator's notes
I defy anyone to finish watching this program dry-eyed. It's a story of triumph over adversity told by the people who are living that life.
I found the sequence of events on the football side of the story quite difficult to understand. This can be one of the disadvantages of not using a formal narration. But that's a small quibble when the centrepiece of the story is the coach and his extraordinary family.