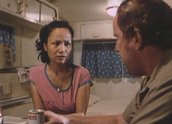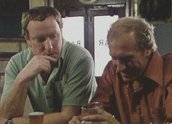 Mail Order Bride (1984)
Synopsis
After an exchange of letters, a Filipino woman known as 'Ampy' (Charito Ortez) arrives in Australia to marry Kevin (Ray Meagher), a builder who lives in a caravan park in a small town in far-western NSW. They struggle to adjust to life together as religious and cultural differences, combined with the inherent violence, alcohol abuse and racism of the isolated community, threaten to destroy any chance of their marriage succeeding. It isn't until Kev's 'best mate' Tommo (Paul Sonkkila) bashes and rapes Ampy that Kevin eventually finds the courage to turn his back on his old life and move away to start over with Ampy in a new town.
Curator's notes
Produced by the ABC in 1984, Mail Order Bride was the sixth and final feature-length made-for-TV drama screening in the 'Sunday Australian Movies' anthology hosted by actress Wendy Hughes. The longer format attracted newcomers to television like director Stephen Wallace, who had written and directed Love Letters from Teralba Road (1977) and Stir (1980), both starring Bryan Brown.
In Mail Order Bride Wallace is well served by another actor, Ray Meagher, who since 1988 has played Alf Stewart in the Seven Network soap Home and Away and holds a world record as the longest-serving actor in a television serial. Meagher won a Best Actor Penguin Award in 1984 for his performance as Kev in Mail Order Bride. Charito Ortez, who plays opposite Meagher, had a small role in the film Far East (1982). She does a fine job as Ampy, bringing a sense of personal reality to the role. The support cast is strong, especially Paul Sonkkila as the vile Tommo, Justine Saunders as the Indigenous activist Iris, and Sheila Kennelly as warm-hearted Dorothy.
Scriptwriter Robyn Davidson was also known as 'the camel lady', after making a crossing from Alice Springs to the west coast by camel. Although Tracks, her book about the camel trip, was not published until 1993, Davidson was living in Alice Springs from early 1970, preparing for the trek she undertook in 1977. She certainly knows her subject matter and delivers her indictment of white Australia's racism and xenophobia with uncompromising directness.
The subject of mail order brides has often been treated as a source of comedy (see Fat Pizza, 2003). The unpalatable truth that makes them ripe for drama is that unrealistic expectations on both sides of the relationship, combined with strong cultural differences, often create unbearable tensions within such marriages. This is the situation reflected so accurately in Mail Order Bride, making it a good example of a type of TV drama too rarely attempted in Australia: a stand-alone telemovie that tackles real problems in our society.
Series like 'Sunday Australian Movies' had been popular since the 1960s in both the US and UK. 'The Wednesday Play' ran on the BBC from 1964–70 and 'ABC Movie of the Week' (1969–75) in the US featured Steven Spielberg's Duel (1971) ahead of its theatrical release. Telemovies in Australia have often been 'backdoor pilots', designed to test a series concept (see McLeod's Daughters, 1996). In the 1980s however, the ABC received an injection of much-needed funds from the newly-elected Hawke Labor Government from July 1983, which enabled 'Sunday Australian Movies' to be made.