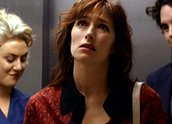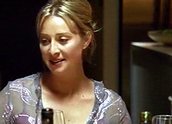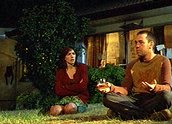 Love My Way – What's in a Name (2004)
Synopsis
Love My Way follows the story of 30-something artist and single mother Frankie (Claudia Karvan) and her extended family. Frankie shares custody of her eight-year-old daughter Lou (Alex Cook) with ex-partner Charlie (Dan Wyllie). Charlie is now married to Julia (Asher Keddie) and father to a second child. Frankie shares a house with Charlie's brother Tom (Brendan Cowell), a former high-flying chef who now runs the kitchen at a rehab centre. Also in the picture are Frankie's free-spirited mother Di (Gillian Jones), Charlie's parents Brenda (Lynette Curran) and Gerry (Max Cullen), Julia's ex-boyfriend Howard (Sam Worthington) and Frankie's workmates at her part-time job at a newspaper.
In episode two of series one, Frankie deals with the humiliating aftermath of a big night with her co-workers at the Walkley Awards for journalism. Tom is knocked for six by the death of an old schoolfriend he met again at the rehab centre. Julia and Charlie search for a name for their new son, while Lou struggles with a changed family dynamic. Di becomes romantically involved with Frankie's canvas stretcher, Bill (Anthony Phelan).
Curator's notes
In the second episode of the series, we continue to get to know Love My Way's characters and the connections between them and start to see some tensions emerge. The romantic story-line involving Di provides evidence of the strong ensemble nature of this inter-generational cast. Rather than simply fulfil a plot function as Frankie's mother, she has her own story. Alex Cook also gives a faceted performance as Lou.
The understatement accompanying several key dramatic scenes stands out. The temptation might be to milk scenes, like the funeral of a schoolfriend of Tom and Charlie's or Tom's trip to the emergency ward, for high drama. Instead they're treated with a wry humour that still doesn't lose sight of the emotion involved for the characters.
Louis Irving's AFI-nominated cinematography is interesting for its tendency away from standard TV studio set-ups. He and director Jessica Hobbs seem to favour medium shots of characters that take in some of the environment and sometimes have more than one character in frame, rather than the traditional 'shot, reverse-shot' set-up. Along with naturalistic-looking lighting, this provides an observational feel. Karvan and her Love My Way co-producer, John Edwards, had previously collaborated on The Secret Life of Us (2001-04), also made by Southern Star.
Love My Way aired only on Foxtel pay TV in Australia, and screened widely overseas. Three series were produced from 2004-2007. This is the second episode of series one.