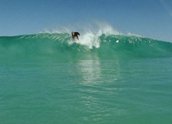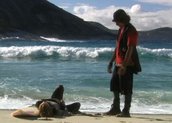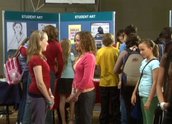 Lockie Leonard – The Human Torpedo (2006)
Synopsis
For 'surf rat' Lockie Leonard (Sean Keenan), 'life is proving to be one long whack in the goolies'. Discovering that his new home is a dump on the edge of a swamp, starting high school in a new town without knowing anyone, and making a fool of himself in front of the girl of his dreams is just the start of Lockie's travails in the remote coastal town of Angelus.
In this first episode of the series, we meet Lockie's embarrassing but loving family: his father Sarge (Rhys Muldoon), mother Joy (Briony Williams), little brother Philip (Corey McKernan) and baby sister 'Blob' (Georgia Schober). We are also introduced to headbanger Geoffrey 'Egg' Eggleston (Clarence John Ryan) and Vicki Streeton (Gracie Gilbert), a girl 'so cute' that poor Lockie is rendered completely speechless in her presence.
Curator's notes
The series was adapted from Tim Winton's multi-award winning Lockie books: Human Torpedo (1990), Scumbuster (1993) and Legend (1997). Filmed in the coastal town of Albany, Western Australia, the stories are loosely based on Winton's own childhood when his father, a police officer, was posted there for three years.
The audience is drawn into Lockie Leonard's world through his thoughts, heard in voice-over. We hear his excitement when he looks at the surf and declares, 'The rumours were for real – it was demented out there'. We share his pleasure when conquering the waves, and his pain when he gets spectacularly dumped. Seen from his perspective, Lockie's family is larger-than-life eccentric. And yet they are rounded and complex characters who display real human frailties and emotions, avoiding the parent caricatures often seen in children's television,
Lockie as narrator takes us forwards and backwards in time, and shares his fantasies about girl bands, lone encounters with the girl of his dreams and mastery of the waves. These sequences create pathos and humour in equal measure as we see the world from Lockie's unique vantage point. It also gives the writers and directors the chance to play with narrative structure, reality and fantasy.
The rollercoaster of emotions we experience is from the extreme perspective of a bright 13-year-old boy. The basic decency of his character ensures that, however excruciating the embarrassment and however painful a moment can be, we are always laughing with the characters rather than at them.
Lockie Leonard – The Human Torpedo first went to air on the Nine Network at 4.00 pm on Tuesday 19 June 2007.