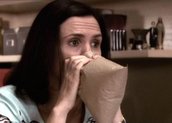 The Librarians – Series 1 Episode 1 (2007)
Synopsis
The Librarians is a situation comedy series set in the fictitious 'Middleton Interactive Learning Centre' in Melbourne, known more prosaically as the local library. In this introductory episode, the weekly staff meeting is derailed by someone putting human excrement in the returns slot. Chief Librarian Frances O'Brien (Robin Butler) is threatened by the appearance of childhood friend and nemesis, Christine Grimwood (Roz Hammond), who desperately needs a respectable job to improve her image. Neil Slider (Bob Franklin), a convicted felon working at the library on community service, takes a shine to Christine and blackmails Frances into employing her by revealing that he knows how Chief Assistant Librarian, Dawn (Heidi Arena), became a paraplegic. Frances not only has to employ Christine but to accept Dawn's suggestions for the upcoming Book Week.
Curator's notes
Situation comedy series written, performed, produced and directed by comedians have been a staple of the British television industry from day one but are a relatively new phenomenon in Australia. Channel Seven and Crawford Productions combined with the 'Wogs Out of Work' team in the late '80s to produce Acropolis Now (1989–92) but it is only more recently that the ABC has taken this route. It has paid off handsomely (see Kath and Kim, 2002–07, and Summer Heights High, 2007). The Librarians is another of these independent productions; it was nurtured by the ABC but written, produced and performed by husband and wife team Wayne Hope and Robyn Butler.
Hope is also the director. His work is one of the highlights of the series; he keeps the pace going and the jokes cleanly and cleverly presented. From a design perspective, the decision to shoot the series in a converted Mercedes dealership in inner-suburban Melbourne was inspired (see clip one). The performances are also very strong, every actor finding ways to make the most of their material with Butler, in particular, allowing no nuance of the unpleasant Frances to go unnoticed (see clip two).
The ABC promoted the series as a comedy-drama and Butler and Hope tried to avoid 'cringe comedy', which was being done at the time in Summer Heights High (2007). Butler told the Australian Library and Information Association that 'the librarians in our local library are nothing but tolerant, so we can happily say Frances was not researched in any way in a library or via a librarian'.
The other characters are not as monstrous as Frances, but still funny and somewhat dysfunctional: the clumsy doormat Dawn; good-time girl Christine; the perpetually sneering Neil, bludging his way through community service; and Frances's glum husband Terry (Wayne Hope). The least flawed are Nada (Nicole Nabout), the acceptable face of Islam; Ky (Keith Brockett), who's Asian and gay; and Father Harris (Kym Gyngell), the catholic priest who brings real humanity to the proceedings, offering some relief in a show crammed with eccentric personalities.
Series one of The Librarians premiered on the ABC on 31 October 2007, the six episodes airing at 9.30 pm on Wednesday nights and attracting an average audience of one million viewers per episode. The Wednesday night line-up has given us some genuine blockbusters, in Australian television terms: The Chaser's War on Everything (2006–09), Summer Heights High (2007) and The Gruen Transfer (2008-current). These comedy and light entertainment programs have been bookended by the perennial audience favourites Spicks and Specks (2005–11) and At The Movies (2004–current).
Series two of The Librarians aired in August–September 2009, with a third series of eight episodes following in October–December 2010.