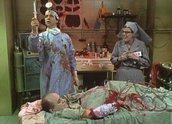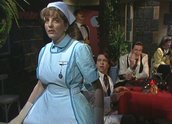 Let the Blood Run Free – Episode 2 (1990)
Synopsis
Let The Blood Run Free is a medical soap opera spoof set in a hospital called Saint Christopher's. In this episode, orderly Warren Cronkshank (Peter Rowsthorn) races to the aid of 'tragically short' Nurse Effie (Helen Knight), who is threatening to jump from the hospital's roof. Dr Raymond Good (Brian Nankervis) operates on the hospital's chief administrator (Peter Green) after his mysterious accident, unaware that his assistant in the operating theatre, Matron Dorothy Conniving-Bitch (Lynda Gibson), wants the administrator dead. Ray and the dastardly Dr Richard Lovechild (David Swann) vie for the attentions of the hospital's newest recruit, Nurse Pam Sandwich (Jean Kittson).
Curator's notes
Let the Blood Run Free started life as a regular improvised theatre show at the Melbourne comedy-cabaret venue Le Joke, sending up TV soaps like General Hospital (US, 1963–current). It went through several theatrical incarnations before being adapted for television. A television program based on a theatre show that sent up TV, it shows its debt to both forms.
This episode spoofs the melodramatic romantic intrigues of soaps but is also self-consciously theatrical. Playfully tacky sets and props make no attempt at a cinematic illusion of reality and the performers revel in physical comedy, slapstick, caricature and over-the-top faux-melodrama. A chaotic and highly improbable plotline gives a nod to soap opera's open-ended narratives as well as the show's improvisational origins. Let The Blood Run Free also channels pantomime, pulp adventure stories and comic books. The latter reference is emphasised by the recurring pre-commercial break motif, a freeze-frame of the action that transforms into a comic book-style still (see clip one).
Let the Blood Run Free ran for two seasons. It was broadcast on Channel Ten and later sold widely internationally. This episode is the second in season one. When it first screened, the series was one of the earliest examples of interactive television, allowing viewers to phone in and vote on what would happen next. This was a carry-over from its days as an improvised theatre show, where audience members voted at intervals on what was to come.