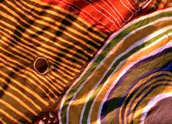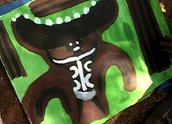 Message Stick – Kurtal: Snake Spirit (2002)
Synopsis
Spider, an 80-year-old Indigenous elder and Wangkatjungka man, returns to the Great Sandy Desert of Western Australia to perform a cleansing ceremony at a sacred jila, a water supply that never dries up.
Curator's notes
The journey of the elder Spider to the jila (or living water), where his snake ancestor Kurtal sleeps at the bottom, is juxtaposed with the current concerns over how the children will be raised, appropriately educated, and prepared to carry on the Dreaming song, also called Kurtal. Kurtal is the place where the spirits of family members return after they pass away.
A beautifully shot film that follows this journey to Kurtal, the first time that Spider takes his family to visit their ancestors. The paintings superimposed on the land, along with performances from the young people who will carry the song, show a dynamic and ever expanding culture that relies on the next generation to continue its traditions.
Kurtal: Snake Spirit won the 2002 ATOM Award for Best Indigenous Resource, and Best Short Film Documentary. It also won the 2003 Best Documentary Film at the Religion Today International Festival of Cinema and Religion, at Trento and Assisi, Italy.