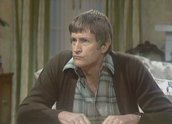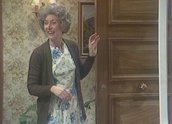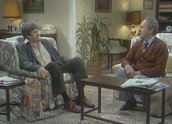 Kingswood Country – There's No Place Like Rome (1980)
Synopsis
When Thelma Bullpitt (Judi Farr) wins a trip for two to Rome, husband Ted (Ross Higgins) refuses to leave Australia. Thelma takes son-in-law Bruno Bertolucci's (Lex Marinos) mother along instead. While their wives are away, Bruno's father Enzo Bertolucci (Joseph Furst) comes to stay with Ted.
Curator's notes
Ted Bullpitt first uttered his catch-phrase 'Not the Kingswood!' on sketch comedy series The Naked Vicar Show (see The Naked Vicar Show – Series 2 Episode 2, 1978). The character proved so popular that Naked Vicar creators Tony Sattler and Gary Reilly wrote Kingswood Country. Actor Ross Higgins returns in the central role.
Kingswood Country's storyline is structured around gags; according to a 1980 write-up in The Sydney Morning Herald, Sattler and Reilly aimed for one every ten seconds. The writers put in place absurd, escalating situations designed to draw out the comic traits of their characters, particularly Ted Bullpitt. The show has the artificial look of a traditional sitcom, with studio sets, bright lights and the laughter of a studio audience.
The Kingswood was an iconic car produced by Holden from 1968 to 1984 that here represents the tastes and aspirations of middle Australia and the 'Australian dream' of a home and car in the suburbs. Bullpitt takes his love for his car to comic extremes, never allowing anybody else near it because he has 'just shampooed the battery' or similar. He also fiercely loves his pet greyhounds and the other trappings of his suburban existence.
Kingswood Country joins a school of Australian comedians and comedies fascinated with suburban Australia, including Barry Humphries's Dame Edna Everage (in The Adventures of Barry McKenzie, 1972) and Kath and Kim (2002–07). Bullpitt's devotion to his suburban empire brings to mind a later character, Darryl Kerrigan in The Castle (1997). Bullpitt is not as good-natured as Kerrigan, however. Rather, his loyalty to his own way of life is accentuated by his hatred of difference. Bullpitt is a curmudgeonly bigot and this often makes him the butt of the joke.
Sattler and Reilly use other characters to draw out Bullpitt's comic flaws, particularly his children, who emphasise the generation gap and social change. His son is a 'fancy' uni student studying medicine and his daughter, to his horror, has married a 'wog': Bruno, the son of Italian immigrants. This episode employs Bruno's parents as well to fire up Bullpitt's parochialism – the punchline is that Bruno's father turns out to be just as territorial and curmudgeonly as Bullpitt.
Some commentators criticised the series for racist and sexist humour, raising a set of questions that often surface around characters such as Bullpitt. Does his bigotry make the series bigoted? Does the audience laugh because they agree, or disagree, with his views? Could this vary depending on the audience member?
Kingswood Country premiered on Channel 7 in a 7.30 pm timeslot on 30 January 1980. It ran for six seasons and 89 episodes from 1980–84. There's No Place Like Rome is episode six of series two and first screened on 23 July 1980. Kingswood Country won Logie Awards for Most Popular Comedy Series in 1982 and 1983 and spawned a 26-part spin-off series Bullpitt! (1997–98).