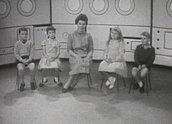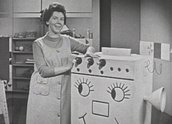 Kindergarten Playtime (1959)
Synopsis
This black-and-white episode, produced in 1959 and presented by Rosemary Milne, features a sing-a-long with children in a rocket ship 'way up in space' and an animated story of a trip to the moon illustrated by the smiling but melancholy Magic Picture Maker.
Curator's notes
According to a website commemorating 75 years of the ABC, Kindergarten Playtime was the first educational television program broadcast on Australian screens. The show was 'designed to widen the experience of young viewers by bringing them into contact with the world outside their own homes'.
Many of the elements familiar to audiences of the later Play School (1966-current) are already here in this pre-school program: the direct-to-camera invitations to participate; the use of simple and repetitive songs; the modelling of imaginative play; and the gentle, reassuring delivery by an approachable adult. Also a precursor to Mr Squiggle (1959-2003), this episode introduces the anthropomorphism of an inanimate object in the form of a talking Magical Picture Maker, predating Squiggle's sidekick, the grumpy Blackboard.
The themes of this episode – rockets and space travel – were topical at the time. In terms of space exploration, the 1950s and '60s was a period in which the fantasy of science-fiction had become a reality. This program was produced two years after the Soviet Union launched Sputnik on 4 October 1957. Sputnik was the first human-made satellite to orbit Earth, an achievement that launched the space race between the Soviet Union and the USA. Here, Kindergarten Playtime focuses on the elements of space travel identifiable to a young child, including what you wear, what you eat and the games you can play while waiting for a space ship to take you to the moon!
The producer of Kindergarten Playtime, Margaret Delves (now Moore), started her career in ABC radio in 1950 before moving to television. She was one of the first women to produce for the ABC and, under the rules of the time, had to resign when she married her husband in 1959.
Kindergarten Playtime was broadcast on the ABC from 1957–1966 in the afternoon at 4 pm. The series began in 1957, a year after television started in Australia. Initially, Australian television was only broadcast from 7-11 pm. The introduction of extended afternoon broadcasting in 1957 saw the rise of children's programming both on the ABC and commercial networks. Kindergarten Playtime was replaced by Play School in 1966.