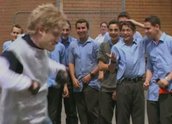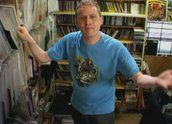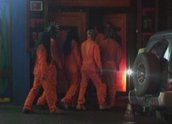 John Safran's Music Jamboree – Episode 2 (2002)
Synopsis
John Safran's Music Jamboree is a ten-part comedy-documentary series about music and pop culture. In episode 2, John Safran stages a Footloose-inspired dance protest at his former high school and helps nine young men gain entry into an exclusive Melbourne nightclub by disguising them as US nu-metal band Slipknot. He looks at the history of banned album covers and speaks with the 'music industry mole' about the ARIA Awards.
Curator's notes
John Safran's Music Jamboree is an irreverent but enthusiastic take on popular music, sandwiching real facts between practical jokes and comic diatribes. Fittingly, its core location is a record store, with Safran stepping into the shoes of the fact-hoarding, music-obsessive guy behind the counter. One suspects this persona isn't a stretch for Safran: music and media culture are recurring subjects in his shows, alongside religion (see John Safran vs God – Episode 2, 2004).
John Safran's first television appearance was in ABC's Race Around the World (1997), a competition series in which participants had to produce a documentary every ten days from a different global location. Safran's contributions combined information, comic analysis and occasionally controversial stunts – the beginnings of his signature style. From there, Safran developed some ABC pilots, but got into hot water over a notorious stunt in which he confronted current affairs host Ray Martin outside his home in a tabloid news-style ambush. That pilot, John Safran: Media Tycoon, never went to air.
John Safran's Music Jamboree was his first solo show. This episode contains some of its more notorious moments – the Slipknot and Footloose (1984) pranks. Safran's later series, John Safran vs God (2004) and John Safran's Race Relations (2009), apply a similar format to religion and inter-cultural relationships respectively. Safran also co-hosted SBS talk show Speaking in Tongues (2005–06) with Father Bob Maguire, with whom he also co-hosts radio show Sunday Night Safran (2005–current) on triple j.
Safran's use of a comic persona to deal with documentary material brings to mind Garry McDonald's Norman Gunston (see The Gunston Tapes, 1975) and Andrew Denton (see The Money or the Gun – Heroin, 1989).
John Safran's Music Jamboree originally aired on SBS on Monday nights in 2002. It won AFI Awards in 2003 for Best Comedy Series and Open Craft Award in Television (Original and Innovative Programme Concept).