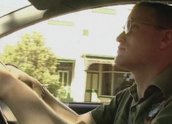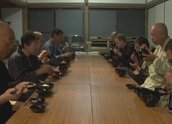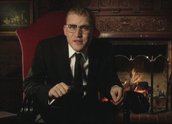 John Safran vs God – Episode 2 (2004)
Synopsis
In this episode of his comedy-documentary series about religion, John Safran road tests Zen Buddhism, questions left-wing sincerity about Aboriginal land rights and gets to know the Freemasons.
Curator's notes
Nothing is sacred in John Safran's second SBS comedy-documentary series. After tackling music (see John Safran's Music Jamboree – Episode 2, 2002), here Safran takes on religion. John Safran vs God is similar in style to the previous series, combining pranks and 'experiments' with real information via a comic style of roving reportage. This time around Safran adds a new dimension with his 'religious road tests', in which he tries out different religions.
The series led Radio National religion journalist Rachael Kohn to credit Safran with 'introducing Gonzo journalism to the field of religion'. It's an apt description for the comedian's immersive, highly personal approach to his subject matter. His style brings to mind performers like Andrew Denton (see The Money or the Gun – Heroin, 1989) and Norman Gunston (see The Gunston Tapes, 1975), who also bring their comic personas into real-world situations. Safran's work is as much about how others react to him in unpredictable situations as it is about the new light he sheds on his subject matter. He combines genuine fascination and a desire to discover with the comedian's classic role of trampling taboos and saying things that are usually out of bounds. Are we laughing at people and their beliefs, or opening up religion to worthwhile scrutiny?
Safran also puts himself in the firing line. There are genuinely uncomfortable moments when he becomes violently ill while taking peyote with a Californian cult; when he approaches the head of the Ku Klux Klan about joining although he is Jewish; or when he participates in a voodoo goat sacrifice in Haiti. In this episode, his exploration of Zen Buddhism makes for easier viewing, although he does get beaten with a stick (see clip two). His segment on land rights highlights another favourite target: middle class and left-wing piousness (see clip one).
Religion has been a recurring subject in Safran's work. His first TV appearances, in ABC documentary competition Race Around the World (series one, 1997), saw him place a voodoo curse on an ex-girlfriend in Africa, streak naked through Jerusalem wearing the colours of his favourite football team and – controversially – covertly film inside a Catholic confession booth. Speaking in Tongues (2005–06) saw him team up with Father Bob Maguire to discuss religious matters. Safran's first encounter with Maguire was while filming a segment for John Safran vs God and the pair also worked together on triiple j radio show Sunday Night Safran (2005–current). Safran's own religious background informs many of his segments and is also central to the premise of John Safran's Race Relations (2009), in which he uses pressure to marry within the faith as a departure point to explore intercultural relationships.
Director Craig Melville also directed Lawrence Leung's Choose Your Own Adventure (2009) and The Chaser's War on Everything (2006–09), as well as Safran's later shows.
John Safran vs God – Episode 2 screened on SBS on 6 September 2004. It was also broadcast on the Sundance Channel in the US. The series won AFI Awards in 2005 for Best Television Comedy Series and Outstanding Achievement in Craft in Television (Original Concept), and was nominated for a Logie Award for most Outstanding Comedy Series.