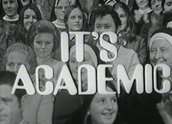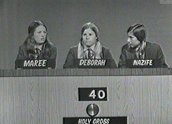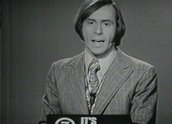 It's Academic – Episode 40 (1971)
Synopsis
A quiz show hosted by Andrew Harwood in which three school teams test their general knowledge and win prizes for themselves and their school. In rounds one and two, each team must answer ten questions from a numbered 'packet' within one minute. The final round, 'Beat the Buzzer', pits the teams against each other – quickest on the buzzer gets first opportunity to answer a question.
Curator's notes
This early black-and-white episode of the unadorned, general knowledge quiz series, based on the long-running American version (1961–current), features polite kids in earnest pursuit of academic glory for themselves and their school. Among the It's Academic alumni is Magda Szubanski who captained a team as a Year Ten student at Siena College in Melbourne, 1976. Andrew Harwood hosted the show from 1971–78. His 40-year career included a hosting stint on the quiz show Jeopardy (1970–78), compering several Miss NSW beauty pageants and appearing as a regular support actor in The Paul Hogan Show (1973–81). Harwood died in 2008.
It's Academic has been on air in the US since 1961, and is recognised by the Guinness Book of World Records as the longest continuously-running quiz show in television history. The program was created by Sophie Altman, who continued as executive producer until she died aged 95 in 2008. In an interview soon after her death, her daughter Nancy commented that Sophie 'had the idea that it would be really nice if academic achievement had the same accolades as the heroes on the football field. If you got a right answer it was like you got a touchdown.'
In Australia, the show originally ran from 1968 to 1978. It was not the first game show to air in Australia, with the radio-appropriated shows Pick a Box (1957–71, see Pick a Box – Episode 170, 1963), Wheel of Fortune (1959–62) and The Price is Right (1957–59) all commencing in the late 1950s. However, it was one of the first shows designed for children – it was structured with school teams and used questions from academic subjects such as spelling and mathematics.
It's Academic was revived by Channel Seven in Perth from 2001 to 2004, and then nationally on the Seven Network from 17 October 2005, hosted by Simon Reeve. Apart from more sophisticated production values, a slightly younger demographic and some changes to the content of subject areas and questions (for example the inclusion of 'Pop Culture') the format remains almost the same as that of the original show.