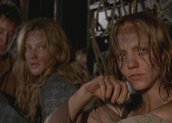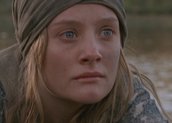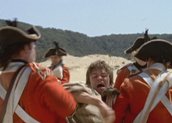 The Incredible Journey of Mary Bryant (2004)
Synopsis
When a starving young woman, Mary Broad (Romola Garai), is caught stealing a bonnet and some bread, she is sentenced to transportation with the First Fleet to Botany Bay. On her voyage, she meets two men with whom her fate will become intertwined. Will Bryant (Alex O'Loughlin) is the fellow convict she will fall for and marry. Lieutenant Clarke (Jack Davenport) is the captor and would be 'reformer' she will seduce to better her chance of survival.
Mary and Will suffer through the first, harsh years of the colony at Botany Bay, under the watchful eyes of Clarke, Governor Phillip (Sam Neill) and Reverend Johnson (Garry McDonald). But as crops fail for the third year running and they see their fellow convicts starve, Mary hatches a daring plan of escape. With two children to care for, she will attempt anything to keep herself and her family alive.
Curator's notes
The bones of this historical tale are true. Bryant was a convict, sent to the penal colony at Botany Bay with the First Fleet. In 1791 she made an astonishing escape attempt from the colony by boat with her two small children and a group of fellow convicts, including husband Will Bryant, for which she was to become a cause célèbre back in England.
The most astonishing aspect of the story is a matter of historical record: that is, how far and for how long Bryant and her cohorts managed to travel in a small boat on uncharted waters. The journey has been compared to the voyage of Captain Bligh after the mutiny on the Bounty. This is not a documentary or docudrama, though. Rather, Mary Bryant's creative team work her history into an epic melodrama and period adventure, full of swash and buckle, sweeping landscapes, high seas and romance.
The mini-series paints a squalid picture of the early colony at Botany Bay, at a time when it is still an experiment, struggling to become viable and by no means guaranteed a future. This version of the colony is overseen by cynical officers hoping to further their career prospects in England with a colony posting. At best, they are fading idealists, at worst, unambiguously corrupt. Aboriginal people appear in a few scenes but by and large Mary Bryant sidesteps that aspect of colonial history. The focus is on a battle between classes, convicts and their keepers, and underdogs and overlords, with sympathies firmly on the convicts' side.
Upon its completion in 2004, this British and Australian co-production was the most expensive TV mini-series ever made in Australia. As an epic period drama, it harks back to the 10BA tax concession-fuelled 'golden age' of TV mini-series in the 1980s, which spawned period dramas like The Shiralee (1987), Harp in the South (1986) and All the Rivers Run (1983). Period epics have been less common since then but not absent from the small screen: Jessica (2004) was another production to pick up the baton. On the big screen, Baz Luhrmann's Australia (2008) recently sought to reinvent the period melodrama.
There seems an underlying quest for an Australian colonial mythology in many of these period epics, in particular a quest for the seeds of an Australian character. They often feature heroes and heroines who are battlers, underdogs and pioneers, struggling against the harshness of the Australian environment and other hardships like poverty or the class system.
Mary Bryant was shot over 12 weeks in 22 locations, with a British and Australian cast. Production company Screentime and producer Greg Haddrick are responsible for a number of other drama series based on real events, including Underbelly – Series 1 (2008) and The Society Murders (2006). Director Peter Andrikidis and director of photography Joe Pickering have collaborated on numerous other productions, including police dramas Wildside (1997–99) and East West 101 (2007–current).
Mary Bryant's two parts first screened on Channel Ten in an 8.30 pm timeslot on Sunday 30 and Monday 31 October 2005. It won the ratings in the national capitals on its first night with 1.6 million viewers and came third on its second night with 1.3 million viewers. It was the fifth most watched mini-series on Australian TV between 2001 and 2008. It screened on ITV1 in the UK in 2006.
It won a gaggle of international awards between 2005 and 2007, including the AFI Award for best mini-series, a Logie Award for most outstanding mini-series, a Gold Plaque at the Chicago Hugo Awards and a Gold Medal at the New York Festival. Director Peter Andrikidis received a Silver Hugo Award for direction and composer Iva Davies an APRA–AGSC Award for Best Music for a mini-series.