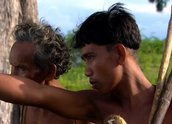 The Human Journey – Episode 3 (1999)
Synopsis
In this, the third and final episode of the series, we learn that Homo sapiens left the Middle East for the new world of South-East Asia 90,000 years ago, in the long saga of the journey out of Africa.
Curator's notes
This series combines good storytelling with some clever re-creations and great photography to describe the evolution of humankind from the heart of Africa, and its slow migration around the world. The series challenges notions of racial superiority when it presents recent genetic research that demonstrates that we all originated from the one tribe or family that had its origins in Africa.
The series was the brainchild of Andrew Waterworth, a scientist and presenter of Beyond 2000 (1999). Waterworth had been researching and writing about the topic as he tried to convince the production company Beyond that it was possible to tell this prehistoric story with only contemporary visuals. With Roger Scholes on board as an experienced director, the series was greenlit when Beyond and The Discovery Channel in the US were convinced that the series could be made in a visually arresting way for non-scientific audiences.