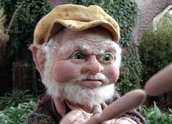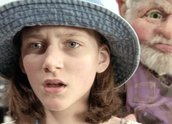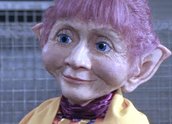 Horace and Tina – Settling In (2000)
Synopsis
This is episode 2 of the 26 part series. Lauren's (Jasmine Ellis) life is a total mess. A Canadian, she misses her friends and hates living in Australia. Now, to make things worse, she has the weird nelves Horace (Frank Gallacher) and Tina (Jackie Kelleher) in her life and she is the only one who can see them. Horace is a toy maker and he's trouble. His sister Tina keeps trying to run Lauren's life. Lauren wants them to leave and does her best to get rid of them. When her vet mother (Carolyn Bock) attends to a hurt wombat, Lauren takes the chance to get rid of Horace and Tina, sending them in a cage to the animal shelter along with the wombat. Unfortunately, her stepbrother Max's (Jordan White) dog Sherlock gets sent away instead.
Curator's notes
The combination of live action and animatronic puppets playing Horace and Tina, is an unusual one in this drama filmed in Williamstown, Victoria.
The actor playing Lauren, Jasmine Ellis, was the animation model for the animated title character in the Canadian comedy series Angela Anaconda.