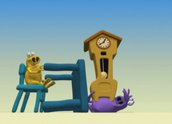 Hoota and Snoz – Series 3 Episode 13 (2003)
Synopsis
In this episode, Snoz finds a mini Hoota as the novelty item in a cereal pack. Unfortunately for Hoota, even when he seems to be coming out on top, his tendency to act rashly and attract bad luck means that inevitably everything goes terribly wrong – much to the amusement of Snoz.
Curator's notes
Hoota and Snoz is a series of one-minute 3D computer-generated animations targeted at six to ten-year-olds. Each surreal episode is set in a familiar environment, in this case at the breakfast table, and then spirals into a competitive adventure after some object is found (see also Hoota and Snoz – Series 3 Episode 3, 2003).
The characters Hoota and Snoz, one yellow and one purple, live in a constant state of rivalry. Hoota usually instigates most of the disputes but his impatience regularly gets him into all sorts of trouble. Snoz is quieter but can be very sneaky and is quick to orchestrate the inevitable disasters that befall Hoota. Hoota and Snoz have their own special language that can be understood by kids everywhere.
Hoota and Snoz is arguably Australia's first totally computer-generated animated series. It screened on ABC TV and online as well as internationally in over 100 territories.