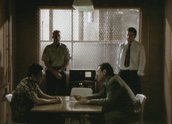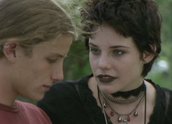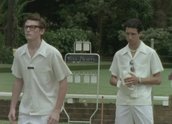 Heartbreak High – Series 7 Episode 210 (1998)
Synopsis
School at Hartley Heights High is out for the very last time, but not before there is compromise, a sporting victory, personal growth and even a proposal. This episode continues the story of self-appointed bad guy Drazic (Callan Mulvey), facing a charge of possession of stolen goods. Drazic's girlfriend Anita (Lara Cox) appeals to ex-boyfriend Constable Todd Gillespie (Dominic Purcell) for help.
Headmaster Alan Carson (John Gregg) is sprung by amused students as he practises on the school roof for an inter-school lawn bowls competition. He finds an unlikely partner in student Marco (Danny Raco). Meanwhile the relationship between Zac (Luke Jacobz) and Tess (Katherine Hicks) is strained when Zac makes light of her belief in the paranormal.
Curator's notes
Set at a fictional inner-city high school, Heartbreak High is a long-running series about the lives of teenage students, their families and the teachers at Hartley Heights High School. Based on a stage play written by Robert Barrett that inspired a successful feature film (The Heartbreak Kid, 1993), the TV series ran for 210 episodes over seven series before a reduction in overseas sales halted production in 1999 (see also Heartbreak High – Series 1 Episode 1, 1993).
In this episode, and more generally in later seasons, the show shifted emphasis away from the school setting to the life of students and ex- students outside the school environment. The school location also changed after 130 episodes due to redevelopment of the original Maroubra location. This series was filmed in the northern Sydney suburb of Warriewood. Writer and producer Chris Roache comments in an interview on the Heartbreak High website that they added the word 'Heights' to the Hartley High name 'to account for the extra trees and greenery around our new school'.
The first 91 episodes of Heartbreak High were broadcast on Network Ten. After a year's break with no Australian broadcaster, the series was picked up by the ABC. Internationally, the program sold to the UK, Europe and India. European sales partly financed the series and allowed production to continue during the break in Australian broadcast. Heartbreak High continues to air in Australia (most recently on ABC 3).
The final episode of Heartbreak High was first broadcast on the ABC on 19 January 1999.