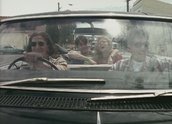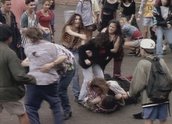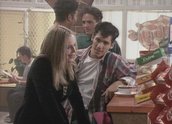 Heartbreak High – Series 1 Episode 1 (1993)
Synopsis
It's the first day back at school at multicultural Hartley High and simmering racial conflict is ignited when Rivers (Scott Major) repeatedly goads new student Jack Tran (Tai Nguyen). It comes to a head when Jack's schoolbag is set alight and Jack challenges Rivers to a fight. Nick (Alex Dimitriades), his cousin Con (Salvatore Coco) and their gang are surprised when their offers of support to Jack are rejected, but intervene anyway when the after-school fight becomes a free-for-all brawl.
As the last staff member on the premises, new teacher Christina (Sarah Lambert), whose first day was met with disenchanted teachers and exuberant, impossible-to-control students, bravely tries to break up the fight. Turning up late at school the following day sporting a black eye, she gains the respect of students and staff by her handling of the situation.
Curator's notes
Heartbreak High is a series about the lives and families of teenage students and their teachers at the multicultural, inner-city Hartley High. The series is based on a stage play written by Robert Barrett, first published in 1988, which was adapted into successful feature film The Heartbreak Kid (1993), starring Alex Dimitriades and Claudia Karvan.
This first episode is directed by Michael Jenkins, who also wrote and directed the film. Alex Dimitriades, whose acting debut was in the feature, continues his role as Nick in the series. Central to the film was a romance between Dimitriades's student character and the teacher played by Claudia Karvan which was dropped for the TV series.
In an interview on the Heartbreak High website, series creator and executive producer Ben Gannon said of the film on which the series was based:
The Heartbreak Kid was presenting a world that we didn't think was widely known outside of Australia; a multi-racial, urban, more 'gritty' high school. Up until Heartbreak, we didn't feel that had ever been properly represented on film or television. So that was the world of the movie … a picture of Australia that was interesting and different from Neighbours (1985–current) and Home and Away (1988–current), which was what people were used to seeing.
The TV series captured more than 70 per cent of the youth audience in its first five weeks of broadcast in Australia, and went on to run for 210 episodes over seven series (see also Heartbreak High – Series 7 Episode 210, 1998). The series was broadcast initially on the Ten Network (from 1 April 1994) and then after a year's break in Australia was picked up by the ABC.
Internationally, the program was also very successful, selling to the UK, Europe and India. European sales partly financed the series and allowed production to continue during the break in Australian broadcast. Heartbreak High continues to air in Australia (most recently on ABC 3).