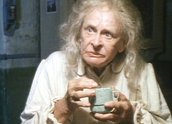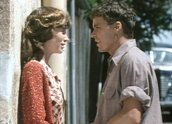 Harp in the South (1986)
Synopsis
A two-part miniseries following the life and times of the Darcys – an Irish-Australian family – in the aftermath of the Second World War. The impoverished Darcy family, exiles from the bush, live in Surry Hills, a housing commission enclave in inner-city Sydney. It's a world of sly grog shops, prostitutes and pimps and the sort of boarding houses that attract lonely misfits.
Hughie Darcy (Martyn Sanderson) had been a shearer's cook until the grog got to him. He somehow manages to hold down a job, but his pay is often docked because he's recovering from a hangover. His wife, Mumma Darcy (Anne Phelan), is the lynch pin of the household. She's ignorant and uneducated but has a big heart. The terrible tragedy of her life is the loss of her son, who disappeared from outside the Darcy's house many years ago, when he was only a child.
They have two other children, Dolour – called Dola – (Kaarin Fairfax) who is still at school, and Rowena – called Roie – (Anna Hruby) who works in a local factory. To make ends meet, the family take in boarders, some odd and lonely souls.
Curator's notes
This top-rating miniseries, based on the Ruth Park book of the same name, was adapted by Eleanor Whitcombe and the director George Whaley. 'The harp in the south' refers to Irish immigrants in Australia. The Darcy family are part of the working-class community with predominantly Irish origins that once inhabited the inner-city slums of Surry Hills in Sydney. It's a world that has largely disappeared as the area has become gentrified.
Producer Tony Buckley had been talking to Ruth Park about a feature film based on her book, but when the television miniseries became a popular genre in the early 1980s, he saw this as an ideal vehicle for the story and Valerie Harding, then head of drama at Network Ten, agreed. Tony Buckley had met the director George Whaley at the Australian Film Television and Radio School where the latter was one of a group of theatre directors retraining as film and television directors. Ruth Park loved the idea of a theatre director for the series. Eleanor Whitcombe was Ruth Park's choice to adapt the novel, with input from George Whaley, who went on to adapt and direct the second series, Poor Man's Orange.