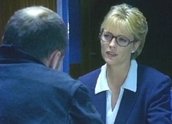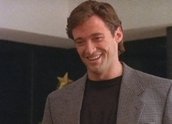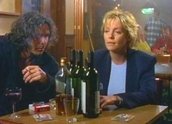 Halifax f.p. – Afraid of the Dark (1997)
Synopsis
When eight people are gunned down at a petrol station, forensic psychiatrist Jane Halifax (Rebecca Gibney) is called in to create a profile of the killer and soon finds herself in over her head. With the case stirring up memories from her own past, Halifax finds it hard to maintain her professional detachment.
Curator's notes
The Halifax telemovies work as classic whodunnits and forensic psychiatrist Jane Halifax is a classic TV sleuth. Typically, she arrives to assist the investigators and ends up the centre player in a suspense-driven crime plot. Like Poirot or Miss Marple in an Agatha Christie mystery, Halifax has unusual powers of perception, crime-solving abilities and insight into human nature, thanks to her job as a psychiatrist. This touch also adds a 'psychological thriller' dimension to the films.
In Afraid of the Dark, Halifax gets a taste of her own medicine, forced to see a psychiatrist after the case causes her to unravel psychologically. Much of the story is told through flashbacks, as she sits on the psychiatrist's couch. We see an archetypal work-obsessed sleuth with a dysfunctional personal life, no longer able to outrun her own demons.
Sometimes compared to Helen Mirren's character in the UK crime series Prime Suspect (1991–2006) Gibney styles Halifax as cool, tough, intellectual and aloof but also brings a broader television 'X factor' appeal to the role. Gibney struck a chord with the viewing public, and according to producers this was an important factor in the series's longevity. In a 2001 Herald Sun interview with Robert Fidgeon, Nine's then drama director Kris Noble described Gibney as 'one of those stars people trust and like', while producer Roger Le Mesurier characterised her appeal as similar to that of Lisa McCune:
I think she is a magical element in the show. She's got that thing where she's accessible to the audience. There's a part of Jane Halifax that is Rebecca Gibney, which an audience can lock in to and I think that's so important with television.
Shane Feeney-Connor gives a stand-out guest performance as a survivor of the gas station shootout, a former alcoholic whose return to the bottle mirrors Halifax's own slide towards a breakdown. Afraid of the Dark also features an early screen performance from Hugh Jackman, as Halifax's work colleague and love interest (see clip two). Perhaps because of Jackman's later international fame this episode was released on DVD under the title Profile of a Serial Killer in 2004.
Producers Roger Simpson and Roger Le Mesurier were responsible for several other crime series, including Stingers (1998–2004) and Good Guys Bad Guys (1997–98).
Beyond Simpson Le Mesurier created 21 Halifax f.p. telemovies between 1994 and 2002. Afraid of the Dark was the 12th, from the third series, and first aired in Australia on 6 September 1998. It was nominated for five AFI Awards in 1998: Best Television Mini-series or telefeature, Best Leading Actor (Shane Feeney-Connor) and Actress (Rebecca Gibney) in a Television Drama, Best Direction (Steve Jodrell) and Screenplay (Roger Simpson) in a Television Drama.