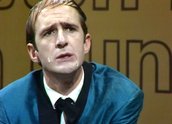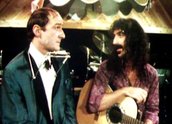 The Gunston Tapes (1975)
Synopsis
From the unbelieving Sally Struthers to Sir John Gorton and Warren Beatty, Norman Gunston (Garry McDonald) became Australia's star interviewer whose rich and famous subjects had no idea what this parody of a journalist was all about. He was present on the steps of Parliament House in Canberra on the day of the dismissal of the Whitlam government, 11 November 1975 and travelled the world to interview Hugh Hefner, Muhammad Ali and Rudolph Nureyev.
Curator's notes
The Gunston Tapes was one of Australian television's great moments. An inspired parody of the then ubiquitous variety programs, it was uniquely Australian and by catching its guests off-guard, could be genuinely revealing in a way few interviews are.
The 'little Aussie bleeder' (Garry McDonald) had first appeared on the second series of Aunty Jack (1973) in a segment called 'What's On in Wollongong', written by series contributor Wendy Skelcher. Already a cast regular, Garry McDonald brought Norman Gunston to life and he rapidly became the program's most popular character. Later Gunston was worked up on Double J's Nude Radio. Then, when Morris Murphy, who'd produced and directed the two series of Aunty Jack, became head of the ABC's entertainment department, they decided to parody the tonight show format with The Norman Gunston Show.
John Eastway became the producer-director of the three Gunston series that were produced at the ABC, with the brilliant comedy writer Bill Harding, who'd begun writing comedy sketches for The Mavis Bramston Show when he was just 15, as the writer. Garry McDonald suggested him because they'd worked together before. Bill recalls that although he might write suggested responses to an interview, Garry had the sort of mind that would use a response from an earlier interview if that seemed more appropriate. In this way, Gunston always seemed to be adlibbing, which was an essential part of his appeal.
Morris Murphy recalls that the tonight show format was an obvious choice because they were everywhere on television in that era and so easy to parody, while the idea of interviewing celebrities came to him after he saw a notorious interview with Frank Sinatra as he arrived at Melbourne airport, who'd been asked by a cub reporter what he did for a living.
Norman Gunston quickly became a household name. When he interviewed Warren Beatty, it appeared on Channel 9's news program that night and when at a later date, he met Paul McCartney and his wife Linda in Perth, that interview was relayed across Australia on all the Channel 9 news networks, a technological advance way ahead of the ABC, still air freighting its tapes around the country at that time.
The Gunston Tapes is a DVD compilation from the best of the Norman Gunston Show (1973-1976), released by the ABC in 2004.