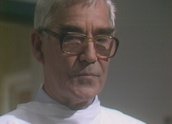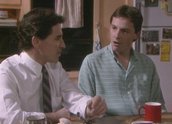 G.P. – Toss a Coin (1989)
Synopsis
G.P. is a television drama about the professional and personal lives of the staff at the Ross Street Surgery, a busy suburban medical practice run by doctors William Sharp (Michael Craig) and his nephew Robert Sharp (John McTernan). In this episode Dr Steve Harrison (Michael O'Neill) has to break the news to grandmother Joan Walker (Judi Farr) that her young granddaughter Zoe Walker (Liberty Lee) is HIV positive. Dr Cathy Mitchell (Sarah Chadwick) struggles between her sense of duty to care for her ailing father and her bitterness over his mistreatment of her family in the past. Meanwhile, in an effort to ward off competition from the 24-hour clinic down the road, William tries to introduce more caring staff-patient relationships. The normally crotchety Dr Sharp puts his new bedside manner into action, to raised eyebrows from his staff – until he is put to the test by some particularly infuriating patients.
Curator's notes
G.P. had a reputation for using the medical drama format to look at serious contemporary issues. This episode tackles HIV and AIDS. It looks at hysteria, taboos and ethical grey areas surrounding the disease at a time when little was known about it. In particular it raises questions around the duty of disclosure. Should Zoe, a small child, be told she has HIV? Should her grandmother be tested? Do they have a responsibility to inform Zoe's school?
As is the series's habit, this main storyline shares the episode with a number of other subplots, some medical, some personal. William Sharp's quest to make his staff adopt a more caring bedside manner is an example of one of the series's lighter storylines. It makes use of the audience's familiarity with Sharp's key character traits. He is usually an old-fashioned curmudgeon, which gives his actions in this episode a comic irony.
G.P. was produced during a transitional period for ABC drama. Drama output at the national broadcaster had dropped to record lows in the mid-1980s. According to Elizabeth Jacka and Stuart Cunningham's book Australian Television and International Mediascapes (1996, Cambridge University Press), new Head of Drama Sandra Levy introduced reforms during 1987–89 aimed at increasing output to 100 hours a year. Changes in approach included a move away from producing one-off dramas such as telemovies in favour of mini-series and longer running series; a new strategy of favouring co-productions over productions created completely in-house; and, according to the Jacka and Cunningham book, a 'move more towards the popular end of the drama spectrum and away from what was seen as esoteric, eccentric or specialised'.
G.P. is representative of many of these shifts. It is a co-production and a long-running series. Its use of genre drama to tackle social themes may have been aimed at attracting a new audience while retaining credibility with viewers still interested in seeing more serious fare on the ABC. Production company Roadshow, Coote and Carroll also teamed up with the ABC for the landmark mini-series Brides of Christ (1991).
Toss a Coin features the original G.P. cast and also demonstrates the old-school studio-based look of much of the series, visible in static camera set-ups and uniform lighting. Towards the end of its run, the series underwent a significant change in style. Under producer Bruce Best it transitioned from being a multi-camera studio production to using single camera capture, in an attempt to achieve a more efficient and cost-effective production process, as well as a more modern look. Later episodes have a more naturalistic, documentary-inflected look to their cinematography and a more fluid feel. The last 58 episodes also feature new principal characters.
G.P. clocked up over 300 episodes between 1989 and 1996. It won a 1992 Logie Award for Most Outstanding Series, with Michael Craig and John McTernan receiving acting Logies in 1991 and 1992 respectively. Toss a Coin is episode 22 in the series and was first broadcast on the ABC on 8 August 1989. This episode won a Human Rights and Equal Opportunity Award in 1989.