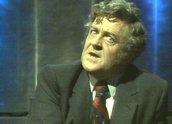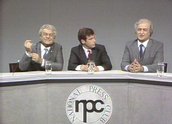 The Gillies Report – Series 1, Episode 4 (1984)
Synopsis
This week's Gillies Report includes the news read by John Clarke with inserts from various politicians of the day played by Max Gillies, and a National Press Club debate between the Prime Minister Bob Hawke and the Leader of the Opposition Andrew Peacock, both of them satirised by Max Gillies.
Curator's notes
The Gillies Report was a who's who of some of the finest comedy talent in Australia, including: Max Gillies, who had previously played Bob Santamaria on stage in The Feet of Daniel Mannix; Patrick Cook, best known for his cartoons and satirical pieces for the weekly newspaper The National Times; Wendy Harmer, breaking through as a brilliant stand-up comic; Phillip Scott, a wonderfully versatile songwriter and pianist-performer; and the inimitable John Clarke, best known at that time for his character Fred Dagg.
Comedians enjoy audience participation, and each week The Gillies Report was made up of a mixture of prerecorded and live pieces in front of a studio audience. The program would then undergo a marathon overnight edit before going to air the following evening. Since the program thrived on immediacy, its comedy potential was increased by the fast turnaround.
The Gillies Report was followed by The Gillies Republic (1986) and Gillies and Company (1992), although neither of the other two series matched The Gillies Report for the sheer brilliance of Max Gillies' ability to capture the mannerisms and absurdities of our politicians, combined with Patrick Cook's searingly funny scripts. All were produced and directed by Ted Robinson and made in the Melbourne television studios of the ABC with a highly experienced and very talented floor crew and a rich assortment of creative craftspeople including seamstresses, tailors, costume designers and model makers, all of them on staff at the ABC. These were the days before the era of public broadcasting budget cuts, when the ABC made its own brilliant in-house dramas and comedies, and the independent film industry used 10BA tax incentives to create a parallel world of quality drama for the commercial networks.