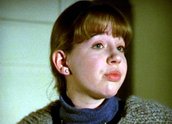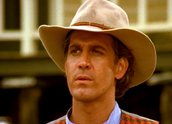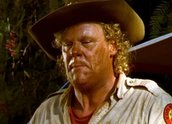 The Genie From Down Under – It's my Opal … (and I'll cry if I want to) (1995)
Synopsis
Posh English schoolgirl The Hon Penelope Townes (Alexandra Milman), possessor of the magical opal, is magically whisked away by her Australian genies, Bruce (Rhys Muldoon) and his young son Baz (Glenn Meldrum) – from her grand home in Witshire England to her 'inheritance' – Townes Downs in outback Australia. She hates it and wants to go home but her mother Lady Townes (Anna Galvin) likes the solitude and wants to stay.
Shonky tour operator, Otto von Meister (Mark Mitchell), and his nephew Conrad (Fletcher Humphrys) arrive with a load of Russian tourists. When he learns that Penelope has an opal, Otto recalls that it belonged to their family years before and he and Conrad decide to steal it back. Penelope falls for Conrad and hangs around him, while he pays her attention so he can steal the opal.
Curator's notes
In this second episode of The Genie From Down Under from series one, the action shifts to Australia and introduces the anti-heroes, Otto von Meister 'the tour guide from hell' and his sneaky nephew Conrad, providing contrast with the prim and proper Penelope, Mossop and Lady Diana Townes. The Russian tour guests are one-dimensional and in each episode Otto's tour group is a different national or cultural group – caricatured as part of the humour.
The name Lady Diana is a relic of the times, a direct reference to Diana, Princess of Wales, formerly Lady Diana Spencer who was at the height of her popularity around the world. She died in 1997.
The Genie From Down Under first went to air on the ABC at 5:00 pm on Monday 3 June 1996 and screened in this timeslot weekly. This episode first screened on Monday 10 June 1996.