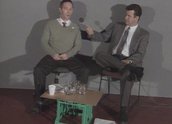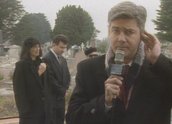 Full Frontal – Series 3 Episode 4 (1995)
Synopsis
Full Frontal is a sketch comedy show that followed the successful Fast Forward in format and style but with a new crop of writers and performers.
Curator's notes
Full Frontal screened towards the tail end of a boom period for Australian sketch comedy, sparked when TV networks took interest in a fresh crop of writer-performers who had cut their teeth in a thriving live comedy and cabaret scene in Melbourne.
It evolved from Channel Seven sketch comedy Fast Forward and has similarities in style, tone and content to the earlier show (see Fast Forward – Series 4 Episode 3, 1992). Like its predecessor it mixes media send-ups with broader character and gag-based humour. The key difference is a different crop of writer-performers.
This episode is from Shaun Micallef's period on the show, when the series's writing shifts in a more absurdist direction. After six months as a sketch writer and occasional performer on the show, Micallef took over as co-producer following the departure of the prolific Andrew Knight (also a producer on Fast Forward). Micallef's later credits as a writer-performer include The Micallef Program (1998–2001) and Talkin' 'Bout Your Generation (2009–12).
Many of the performers continue to be significant names in film and television. Eric Bana cut his chops on the show and became one of its most popular and awarded performers, before going on to an international acting career in both comic and dramatic roles. Kitty Flanagan (see clip 2) went on to success in England with The Sketch Show (2001–04).
Other examples of TV comedy from this era include D-Generation – Series 1 Episode 1 (1985), The Comedy Company – Series 1 Episode 11 (1988) and The Big Gig – Series 1 Episode 1 (1989).
Full Frontal screened on Channel Seven from 1993–97. Channel Ten broadcast a spin-off called Totally Full Frontal from 1998–99.