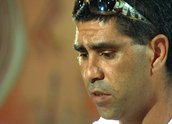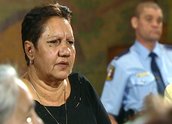 Four Corners – Inside the Circle (2005)
Synopsis
In NSW, Aboriginal people are just 2% of the population and yet make up 20% of the prison population. Something is being done to change this terrible statistic. It's a new system to deal with Aboriginal offenders who come up before the legal system in Nowra and Dubbo. It's called Circle Sentencing and it's succeeding. Instead of the usual recidivism rate of 50%, Circle Sentencing has dramatically reduced that figure to 10%.
Curator's notes
This is a really good news story told by Jonathan Holmes, one of Australia's foremost current affairs journalists. The media is quick to headline bad news stories about Aboriginal Australians but not only is this a positive story, it's also a story about Aboriginal elders taking on the authority of their position within the Aboriginal community, something which is important for the future health and wellbeing of Aboriginals.
Jonathan Holmes was already a successful young current affairs producer at the BBC when he made the momentous decision to come to Australia as the executive producer of Four Corners in the early 1980s when the program seemed to have lost its way. Four Corners began in 1963 as the first current affairs program on Australian television and immediately became essential viewing across Australia. It was the brainchild of three extraordinary journalists: Michael Charlton, Bob Raymond and John Penlington.
With Jonathan Holmes at the helm as executive producer and Peter Manning as his associate producer, Jonathan brought new staff, including Chris Masters and Bruce Belsham, and new ideas via a group of terrific researchers including Sue Spencer (these days executive producer of Four Corners) and Shaun Hoyt who became a producer on Four Corners and was at the time associate producer on the newly created Foreign Correspondent. Jonathan Holmes brought renewed rigour to current affairs reporting and by the end of the Holmes–Manning era, the program was once again considered the premier current affairs program on Australian television.
Jonathan Holmes left Four Corners to run the ABC's documentary unit in 1987, then did a stint as a freelance producer before being appointed to Washington as a foreign correspondent. He has since returned to Four Corners as one of their senior journalists.