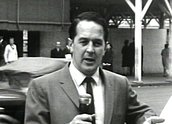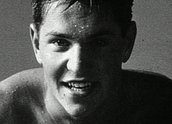 Four Corners – The First Program (1961)
Synopsis
The very first broadcast of Four Corners went to air on Saturday 19 August 1961. There is no record of the program as it went to air but what remains is a compilation tape of the items that made up that program. These include vox pops about whether future governors-general should be British or Australian, a report from an ABC correspondent in Jakarta marking the anniversary of Indonesian independence, and an interview with the swimmer John Konrads.
Curator's notes
The very first broadcast of Four Corners was not recorded for posterity, however the film inserts were kept and the range of topics covered is a fascinating study of the people and the mores of early 1960s Australia. Of particular interest is a live cross to the ABC's Indonesia correspondent in Jakarta. The interviewer, Michael Charlton, is sitting in the Sydney television studio with earphones clamped to his head while we hear the disembodied voice of the foreign correspondent in Jakarta describing events by telephone.
The program was the brainchild of Robert Raymond and Michael Charlton, with managerial support from ABC television boss Dr Clem Semmler. Their concept was to create a weekly television program that would reflect events within Australia and the wider world. Bob Raymond became the first executive producer and Michael Charlton its first reporter. John Penlington was one of the earliest investigative reporters, and the weekly program made its name by reflecting the changing face of Australia.