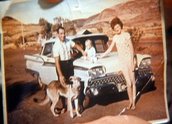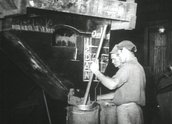 Four Corners – Blue Death (1988)
Synopsis
Wittenoom was home to more than 20,000 people who worked in the mining and processing of blue asbestos from 1944 until the mine closed in 1966. But blue asbestos is a killer and now, years after the mine closed, people who worked and grew up there are dying of asbestos-related illnesses.
Curator's notes
This is a chilling program about Australia's greatest industrial disaster. Reporter Paul Barry and producer Sue Spencer combine to tell the story of a terrible tragedy. Sue Spencer recalls that their work was assisted by the huge amount of research already undertaken by the law firm of Slater and Gordon, which was mounting one of the very first cases of compensation against CSR, the sugar refining giant that owned the mine and later sold it to James Hardy.
These days, after many successful years in current affairs television, Sue Spencer is the executive producer of Four Corners. She produced the award-winning series Labor in Power (1993) for the ABC, which she made with Philip Chubb. In 2001 she worked with Deb Masters on the ABC's mammoth series 100 Years –The Australian Story, written and presented by Paul Kelly.